Paul Pierce is one of the most well-known players in the NBA today, but as he prepares to begin a new season in a new home, as familiar as he already is with this one, there are still a few things that his new fanbase in LA should know about the man they call The Truth.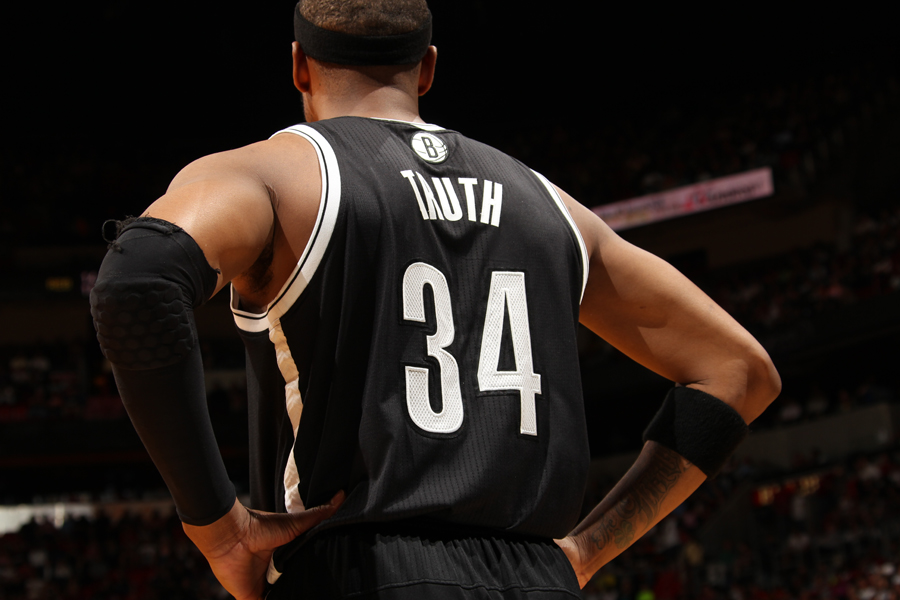 Paul spent his first 15 years in the league with the Boston Celtics and the last two seasons with the Brooklyn Nets and Washington Wizards respectively. Over those 17 NBA season he has a built a reputation around the NBA where he is not only known for his clutch skillset and championship pedigree, but also for the charitable work in the communities he's played in.
Fans throughout Southern California will get a glimpse this season at the type of guy Paul really is and what attributes make him unique. So as the Los Angeles Clippers get set to begin training camp in 10 days, with the 2015-16 season a mere month-and-a-half away, here's a refresher course for Clippers fans to find out: How well do you know The Truth?
THE NICKNAME
The best way to get to know about The Truth is to start with the genesis of that moniker, bestowed upon him by NBA legend Shaquille O'Neal in just Paul's third year in the league.
Even back when Paul was still trying to carve a niche for himself at the outset of his NBA career, he possessed a lethal scoring touch that superstars in the league were starting to take note of. On one particularly proficient night near the end of the 2000-01 season, Paul lit up Shaq's team, the rival LA Lakers  for 42 points on 13-of-19 shooting in Los Angeles at Staples Center. It was in an interview with the Boston Herald after that game that Shaq dubbed No. 34 "The Truth" for the first time.
The story goes that O'Neal was finishing up an interview with a few reporters when he spotted a Boston writer and quickly went over to him to rave about Paul's performance. Shaq went on a rant about how great of a player Paul is and ended his spiel with some colorful language in between 'The' and 'Truth', referring to Boston's No. 34. It was at that moment the nickname was born.
The reporter had to confirm if he heard correctly, as he just stood there shaking his head in confusion. Shaq wanted to make sure it was on the record and he repeated:
"My name is Shaquille O'Neal, and Paul Pierce is the (expletive) truth."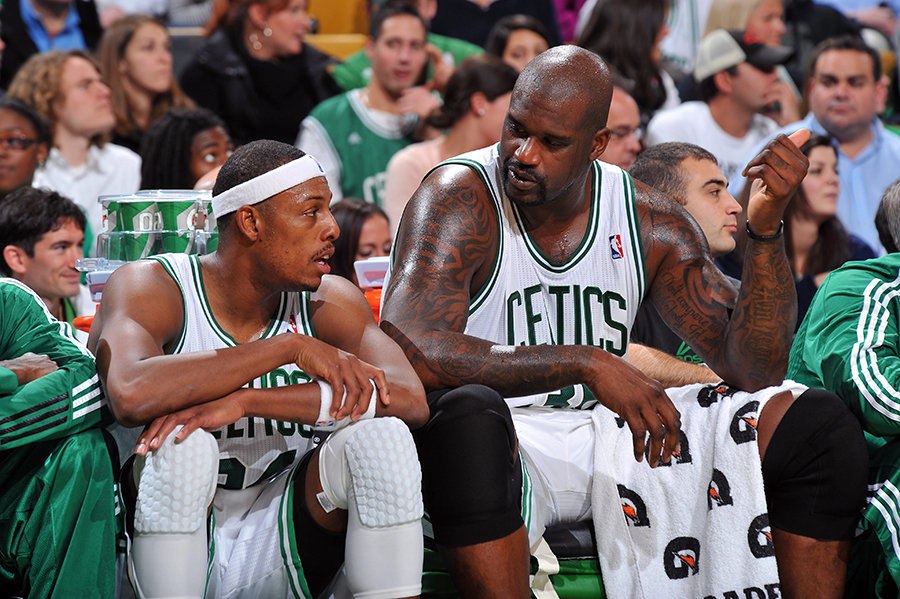 Back in 2010, Paul recalled how appreciative he was that one of the faces of the NBA was speaking of him so highly and also credited that moment with giving him a boost of confidence early in his career.
"You really don't know what's going to stick," Pierce said. "But at that time, being a young player, getting those type of comments from one of the greatest players, it does a lot for your confidence truthfully. That kind of thing really does a lot for a young player. Not a lot of guys get a nickname. You feel like you've got to live up to it."
The nickname has stuck with Paul and become one of the most recognizable nicknames among NBA players today. Over time, No. 34 has proven that being labeled The Truth at such an early stage of his career was no premature connotation.
Since that moment, he has proven time and again that he is the epitome of clutch.
CLUTCH GENE
When it comes to clutch moments throughout the Truth's career, it is difficult to focus on just a few. But there are some signature moments in Paul's career that Clippers fans should know about in order to understand the type of player they will be watching this upcoming season. It is important to note that most of No. 34's clutch career highlights came when it mattered most, in the postseason.
Pierce sets C's playoff record for points in a half
In Game 4 of a first round series against the Indiana Pacers in 2003, Paul helped bring his team back from a 16-point deficit and gave the Celtics a glimpse of the type of playoff performer they would have around for years to come. The Truth scored 32 points in the second half to help rally the Celtics to a 102-92 victory. With the 32 points in the half, No. 34 set a Celtics franchise record for most points in one half in the playoffs. The Celtics took a 3-1 series lead and later won the series in six games.
Pierce's heroic return in Game 1 of 2008 NBA Finals
In the first NBA finals game in Boston since 1986, Paul injured his knee in an awkward play involving Lakers star Kobe Bryant early in the third quarter. When the Garden faithful saw Paul getting carted into the locker room in a wheelchair, the whole building went silent as fans feared they had lost their star player to a serious injury. To everyone's surprise, just minutes after being carted away, The Truth was ready to return. When he was shown on the Jumbotron jogging back to the court, the crowd erupted with excitement and those in Boston will never forget his heroic return that propelled the C's to a 108-98 victory in Game 1 of the Finals over the Lakers. To this day, the game is still referred to as the "Wheelchair Game."
2008 NBA Champion and Finals MVP
The signature moment of Paul's career, where he finally gained the national recognition he deserved, came later in that same series when he was named the Finals MVP after Boston won its historic battle with the Lakers. Paul didn't have an off-the-charts Finals statistically speaking, but it was clear he was the centerpiece of the Big Three tandem that provided the spark the Celtics needed to capture their first championship since 1986. It remains Paul's greatest career accomplishment to this point, and his collective performance that season helped bolster his NBA Hall of Fame argument considerably.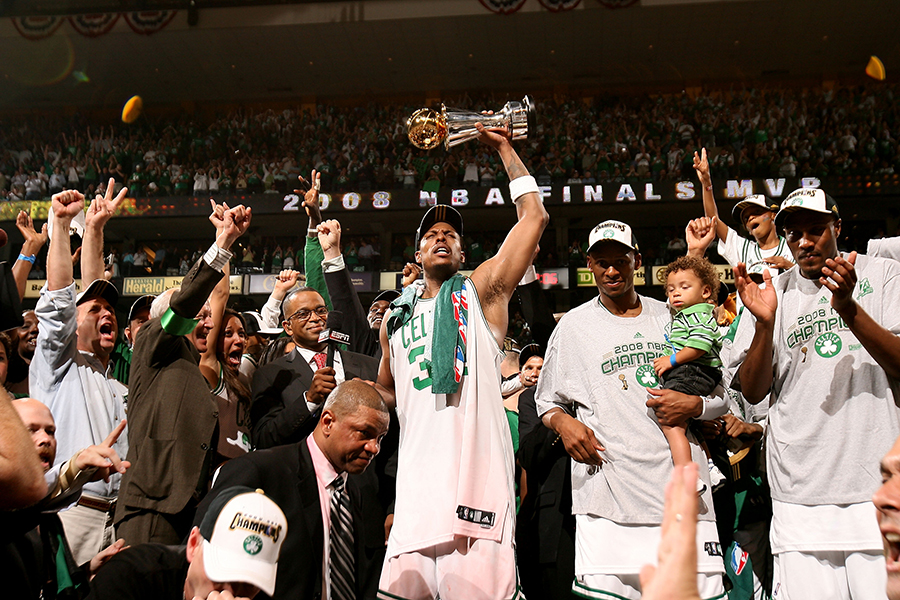 Tormenting Toronto
Paul's playoff exploits weren't limited to his 15 years in Boston. Over the last two seasons, he has helped propel two different teams, first the Brooklyn Nets and then the Washington Wizards on runs to the second round of the postseason. In both years, the team Paul's squad overcame was the Toronto Raptors and fans North of the Border have grown to loathe The Truth for postseason exploits against their team. From his clutch shooting late in Game 1 of the Nets-Raptors series, to his block to seal that series in Game 7, then more clutch shooting this year with Washington, including a Game 3 dagger, to help push the Wiz to a sweep of the Raptors. Needless to say Toronto is glad he's in the Western Conference now.
Buzzer Beater against the Hawks
Paul showed he still has plenty of gas left in the tank during last year's playoff run with the Wizards, first against Toronto, then against the Atlanta Hawks. Again in was Game 3 where No. 34 came up biggest, when he hit a buzzer beater to give the Wizards an important 2-1 series lead. His step-back jumper banked in as time expired and sealed a 103-101 victory for the Wizards. In an interview after the game, Paul was asked if he called "bank" and claimed instead that he called "game." It was another prime example that The Truth knows when to turn it on when the stakes are highest in postseason action.
CHARITABLE WITH HIS TIME
In each of the stops in Paul's illustrious NBA career, he's left marks on the community in more ways than just his play alone. Pierce has always held philanthropy as a priority in his personal life, and the organizations and charitable events he's created support that ideology.
In 2002, Paul founded The Truth Fund, which provides educational and life enhancement opportunities for underprivileged children. Later that year, Paul was awarded the NBA Home Team Community Award for his important role in the community around Boston and his role as spokesman for the NBA's Read to Achieve initiative.
In his time in Boston, Paul put together many celebrity softball games to raise awareness on issues he holds close to his heart. In 2007, he established the Paul Pierce Center for Minimally Invasive Surgery at Tufts Medical Center and Floating Hospital for Children. Through his foundations, he has helped to rebuild the basketball court at the Santa Monica Boys and Girls Club and assist in the complete renovation of Richardson Park in downtown LA.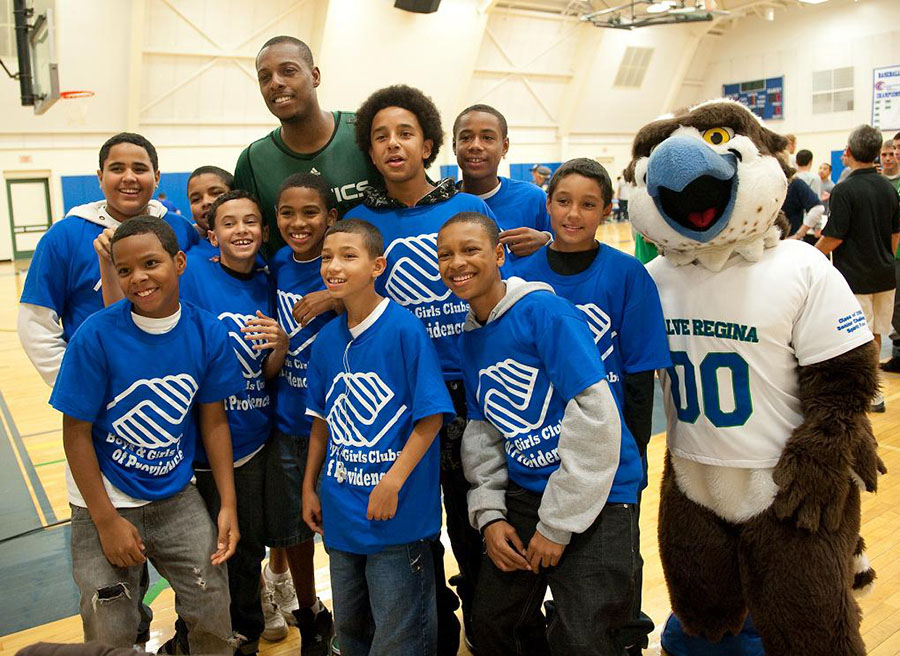 In 2012, Pierce and his foundation launched The Truth on Health Campaign, which focused on leading young people towards healthier lifestyles. The Truth on Health promotes the necessity for lifestyle choices that incorporate daily physical fitness, healthy eating, and a pledge of 60 minutes of physical activity a day.
The Truth on Health Campaign has also launched similar operations such as the Healthy Weight Commitment Foundation, which focuses on activities in schools, the workplace and the marketplace that promotes maintaining a healthy weight by balancing the energy Americans consume with the energy they expend through physical activity.
CAREER ACCOMPLISHMENTS
There are far too many accomplishments on Paul's résumé to list here, but for those looking to learn a little bit more about Paul, some of the most notable accomplishments from his 17-season professional career in the NBA should provide a clear picture of the skillful teammate that will be part of the cast helping the Clippers attempt to capture their first NBA championship.
10-time NBA All-Star and four-time All-NBA team selection
Paul has been elected to the NBA All-Star Game 10 times, over two separate five-year streaks, from 2002-2006 and 2008-2012, with just an injury-riddled 06-07 season breaking up the streaks. He was also selected once to the All-NBA Second Team (2009) and three times to the All-NBA Third Team (02, 03, 08).
NBA Champion and Finals MVP
In the 2008 season, the first year of the Big Three era in Boston, The Truth helped the Celtics capture their 17th NBA Championship and was awarded NBA Finals MVP honors for his performance.
NBA 3-Point Shootout winner in 2010
After years of watching All-Star skills contests from the sidelines, Paul put his hat in the ring for the Three Point Shootout in 2010 and, as he is known to do, delivered with the pressure on. Paul drained 14 shots in the first round, and in a scoring system with a "money ball" worth double, he ended the round with 17 points. That was good enough for a tie for second with Chauncey Billups of the Nuggets, behind Stephen Curry of the Warriors. Pierce led off the final round and had 20 points, setting a strong pace that sealed his win redeeming his loss in the competition from early in his career.
"It was all set up. It was set up and I had a chance to do it again and that's all I needed. All I needed was another chance. I didn't get invited for seven years. Seven, eight years, I never got invited again and this was the opportunity where I got invited, and I took advantage of it this time," Pierce said after the contest.
2002 NBA regular-season leader in total points
Paul finished the 01-02 season — his fourth year in the NBA — with 2,144 points, which ranked first in the league. It marked only time Paul led all NBA players in scoring.
NBA regular-season leader in free throws made
One year later, Paul was getting more respect from teams and led the NBA in free throws attempted and free throws made during the 2002-03 season. He made his free throws at an 80 percent clip that year, converting 604 of his 753 attempts.
Boston Celtics franchise records
During his 15-year run in Boston, Paul rewrote the Celtics history books, putting his stamp on franchise history by etching his name at or near the top of dozens of lists. Here is just a sampling:
Most points scored in a game at TD Banknorth Garden: 50 (February 15, 2006 vs. Cleveland Cavaliers).
Most three-point field goals made in career: 1578
Most free throws made in career: 5808
Most steals in one game: 9 (tied with Larry Bird; December 3, 1999 vs. Miami Heat).
Highest scoring average through one month: 33.5 PPG (February 2006).
Only Celtics player in franchise history to lead the NBA in total points scored in a season, scoring 2,144 points in 2001–2002.
The Celtics' second all-time leading scorer, behind John Havlicek. Pierce also ranks second in team history in career scoring average, behind only Larry Bird.
NBA Career Record Book
Finally, here's a look at Paul's vital statistics through 17 seasons in the league, as well as where he ranks among active players and all-time. He'll be moving up plenty of these list this season as he aims to help take his hometown team, the Clippers, to glory, so there will be plenty of reasons to celebrate in The City of Angels.
Category
Total
All-Time
Active Players
Points
25,899
19th
5th
Three-Pointers
2,053
4th
3rd
Free Throws
6,854
7th
2nd
Games
1,250
30th
7th
Minutes
44,372
29th
6th
Playoff Rankings
Points
3,153
21st
7th
Three-Pointers
271
6th
4th
Free Throws
858
15th
6th
Games
158
32nd
7th
Minutes
6,074
24th
5th
Those vital facts and statistics should give Clippers fans just a taste of what there is to know about the man they call The Truth. For more, visit Paul's biography here at PaulPierce.net.