Going home to Inglewood, California in the offseason is always an adventure for Paul Pierce.
But The Truth's annual trip home featured a unique twist in 2015, one that had many of the locals even more proud to welcome No. 34 back for a very special homecoming.
Paul received a rousing welcome in Inglewood last Friday as friends, family, fans and even civic leaders gathered for a welcome back event at a place The Truth calls the Inglewood Forum, just a few minutes away from where he grew up. It's also not far from where No. 34 will be playing his home games during the 2015-16 season as one of the newest member of the Los Angeles Clippers.
When Paul dons that red, white and blue Clippers uniform this coming season, his career will come full circle and he's hoping to cap an incredible career by bringing a title back home.
"There would be no better feeling than to end my career here at home and winning a championship and carrying that trophy all the way down Manchester Boulevard," Paul explained to the group of supporters at the Forum.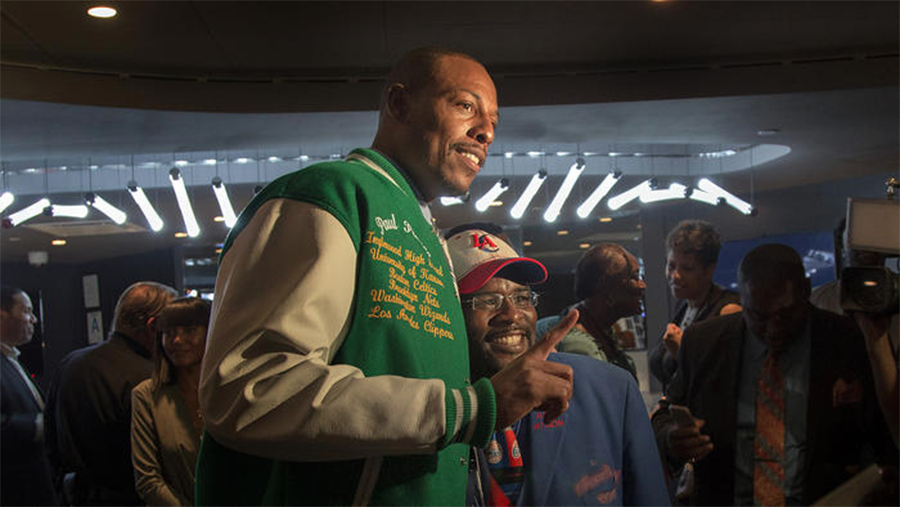 The gathering at the Forum marked an incredible day for Paul. Earlier that same day, he had taken some time to reminisce as he drove around his old neighborhood.
He showed his kids the apartment where he used to live with his single mother, situated right next door to a donut shop. Later he took his family to his junior high and high school to look back on the early days of his life, long before he became a basketball icon.
The Truth is, Paul didn't always seem destined for stardom as a youth basketball player. In fact, one of his former youth coaches recalled him as a "chubby middle-schooler." And while he left Inglewood as a rising star bound for one of the most decorated college hoops programs in the country at The University of Kansas, early on even he had his doubts about his skills on the court.
Early in his high school career, Paul's biggest worry was whether or not he made the cut for the varsity team. His former high school teammate Jason Crowe, the son of Inglewood High's principal, fondly remembers spotting his teammate on campus early on cut day. Long before anyone else arrived at school, there was Paul, skimming over the list of final cuts posted on the door outside of the athletic department.
"I don't know if he wanted to be the first person to check the list because he thought it was going to change," said Crowe, "but he was there and he was on the list."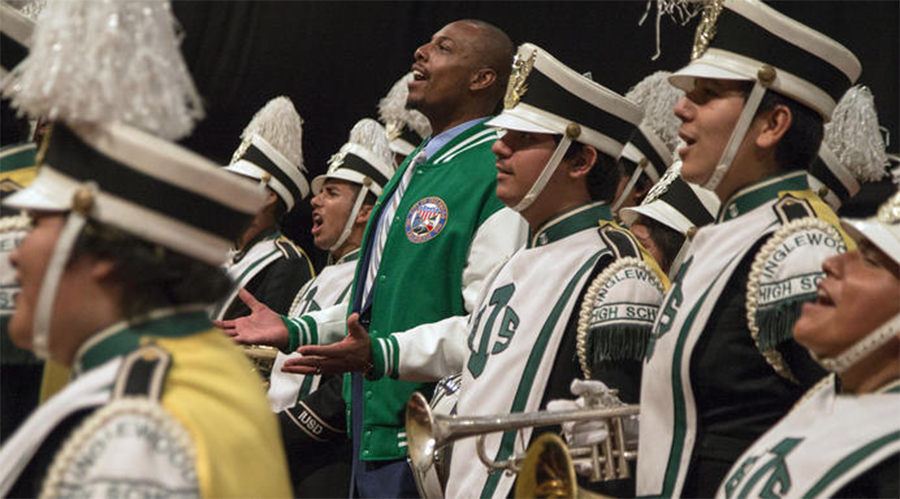 Crowe also recalled No. 34's antics after he learned that he had made the final cut for the team and as he tells it, Paul's sense of humor doesn't seem to have changed a bit.
"As kids are coming to campus Paul is going up to them saying, 'Hey, let's go check the list, man. I don't think I made it, man. You probably made it, though.'"
Former USC coach George Raveling, who was attempted to recruit Paul to come and play for the Trojans but lost out to Roy Williams and the Jayhawks, was complimentary of the Inglewood community for guiding Paul through his youth and molding him into the role model he is for many in the area today.
"His teachers, his mentors, his travel team and grass-roots coaches, they fueled Paul and the dream, motivating him to dream … and ask, 'Why not?'" said Raveling. "They challenged him. They dared him to be great and there's nothing Paul welcomed more than the opportunity to take on the challenge to be great."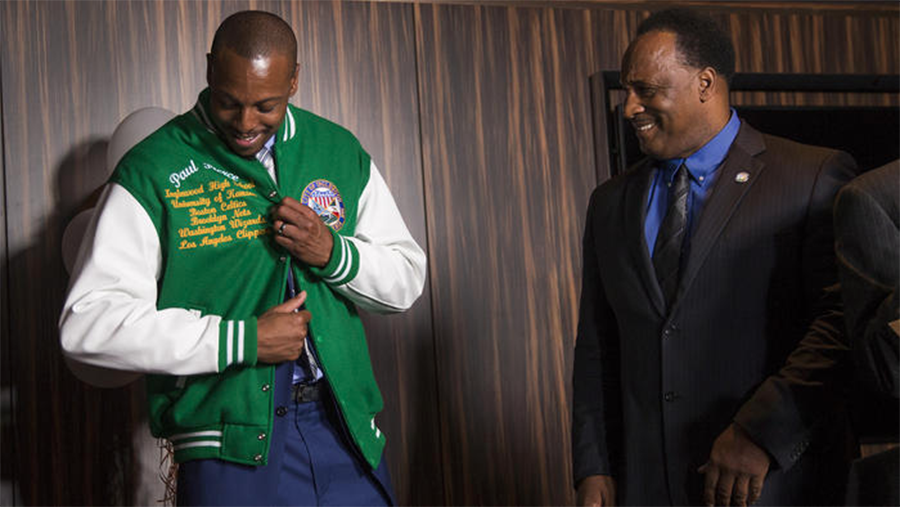 Paul's dedication to the game and stellar work ethic still stick in the minds of those that surrounded him in Inglewood.
One of Paul's high school coaches Scott Collins, who also works with the Inglewood Police Department, remembered driving past the school late one night when the lights shining in the basketball court caught his eye. When he pulled in to see what was going on, he found Paul and Crowe playing a full-court, one-on-one game. As both players tell it, those games would sometimes last past midnight.
Though he received a mostly warm welcome in Inglewood, things can get tricky for Paul, who is also of course a Boston Celtics legend, when he returns to his hometown. The rivalry between Boston and the Los Angeles Lakers is one of the most longstanding adversarial relationships in NBA history.
Like Boston, Inglewood High's colors are green and white and when Inglewood Major James T. Butts presented Paul with a green letterman's jacket — which had the name of each of the teams he's played for stitched on the front, as part of the ceremony — he joked about the correlation.
"Inglewood High colors," Butts stated. "Unfortunately, Boston colors too."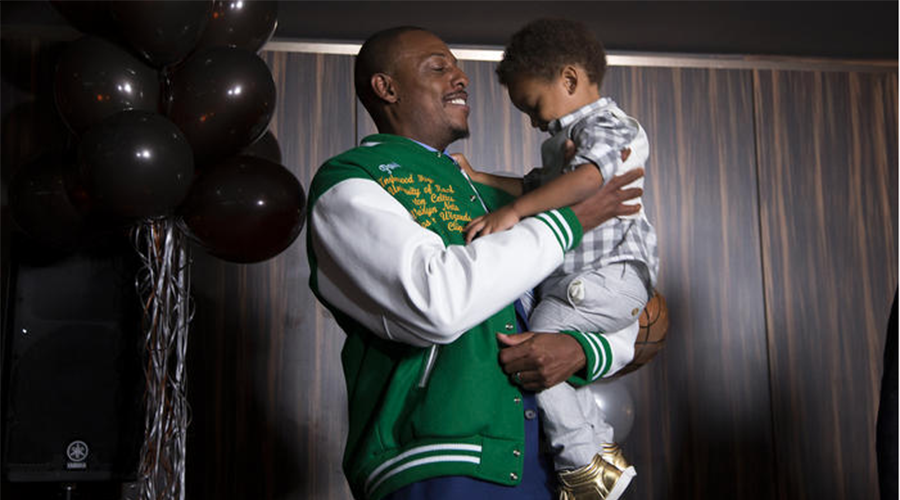 But after spending the first 15 seasons of his NBA career with the Celtics, Paul used to heckling from the Los Angeles faithful by now. He recalled being booed at Staples Center during appearances in an All-Star game and three-point contest, and against the Lakers in the Finals.
Pierce said the most raucous boos came during the All-Star Game at Staples Center when he was isolated at center court during his introduction.
"I just remember going like this when they started booing," Pierce said, waving his hands to provoke the crowd at the Forum, "because I knew those 30 or 40 people I had in the stands were cheering for me and that's all that really mattered to me."
Though Paul is a hometown star with the Clippers, the boos and heckling aren't completely in his rearview. In a recent appearance at Dodger Stadium on "Clippers Night," boos rained down on him as he took the mound to deliver the first pitch. The Truth then bounced his pitch to the plate and took some good natured ribbing from all corners, including from his coach Doc Rivers, who referred to the pitch as "disgusting." But Paul laughed it off and told TMZ that he misfired because of the lack of pressure associated with a "first pitch."
"Usually the first pitch is something to start the game, but as we all know, I'm one of the best finishers, not starters," Paul teased in an interview with TMZ.
Regardless of what he's able to accomplish with the Clippers, The Truth has already cemented his place as one of the best basketball players ever from Southern California, high on that list along with Gail Goodrich, Reggie Miller and Bill Walton to name a few. But that won't stop diehard fans from giving him a hard time, as memories of his playing days in Boston still haunt Lakers supporters.
Paul's return coinciding with the rise of the Clippers and the fall of the Lakers also makes it difficult for the Lakers faithful to stay quiet. While the Lakers flail, having missed the playoffs each of the last two seasons, the Clippers are quickly becoming the main ticket at Staples Center and stealing the spotlight away from their decorated Pacific Division rivals in the process.
The Clips squad that Paul has joined is slated to be one of the top contending teams in the Western Conference this season, with realistic title aspirations. That puts The Truth in prime position to win back some of the hearts of fans throughout Los Angeles by bringing home an NBA championship.
He's glad to have that opportunity in the city that raised him.
"I'm just happy to be able to finish off my career in front of the people who love me the most and were watching me grow to who I am today," Pierce said. "That's going to be a special feeling."
RELATED LINKS