BIOGRAPHY
Ask Paul Pierce, and he will tell you: When you have suffered, when you have failed, when you have known what it is to be humbled — when you endure all of that and emerge on top, triumph is all the sweeter. The journey of the 6'7″ future Hall of Fame forward, from the playgrounds of L.A. to superstardom and back again, is astounding both for its success and how it was achieved.
From his childhood through college and the NBA, Paul toiled on the court, working tirelessly on his game, never with fanfare, always with confidence. Throughout a 19-year NBA career, No. 34 was a consummate player, stalwart defender and offensive dynamo. At his peak, he famously faced up and defeated LeBron James and Kobe Bryant in the same championship playoff run.
He is an all-star, NBA champion and Finals MVP, and all the while, he has lived up to the meaning of his nickname — the Truth — by staying true to himself.
THE SHADOW OF GREATNESS
When you are raised in the shadows of the Great Western Forum, home to the Lakers until the turn of the century, basketball is in your blood.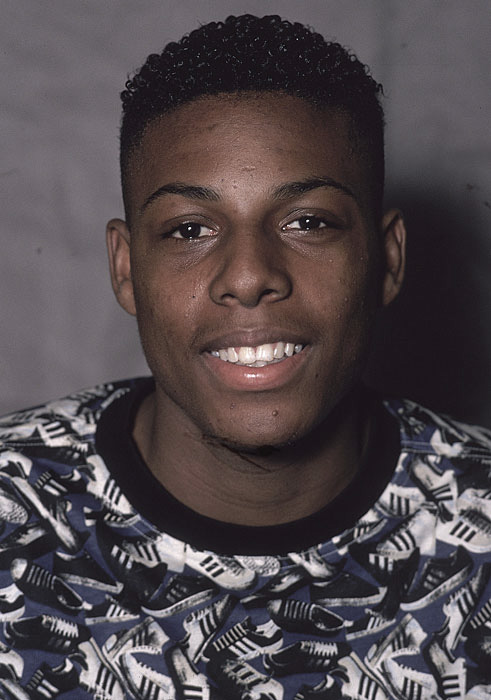 Born on October 13, 1977, Paul Anthony Pierce spent his childhood in Inglewood, California, a Los Angeles suburb. The great Lakers teams of the 1980s captured his imagination, and basketball quickly became his first love.
"That's the beginning for me, just watching the Lakers and Celtics battling it out in the Finals," Pierce said in an interview with the LA Daily News. "That was just like the birth of basketball for me. I was a little kid — 6, 7 years old — just being at my uncle's house, trying to get a seat on the floor to see it. The TV was so small, you just wanted to get a glimpse of it."
Gangs were everywhere; basketball kept Paul and his two older brothers, Jamal and Stephen, out of trouble. Both of Paul's siblings receiving college athletic scholarships: Jamal for basketball and Stephen for baseball. Meanwhile, Paul honed his game on the city's courts, dreaming of becoming the next Magic, and taking steps in the right direction with the help of Scott Collins. Collins, an Inglewood Police detective, was extremely active in the community, and coached youth basketball in the Police Activity League, which offered low-income kids the chance to play organized ball. Collins even snuck his kids into the Forum when he worked security for Lakers games.
"Coach Collins was not only a father figure to me, but to so many other young kids growing up," Pierce said in an interview for Beyond the Glory.
Paul was a prolific athlete, playing hoops, volleyball and bowling through the P.A.L. leagues.
"He was a pretty good bowler," Collins said in an interview with the Boston Herald. "He was pretty good at everything."
NOTHING COMES EASY
As young Paul quickly discovered, however, simply being good is not enough.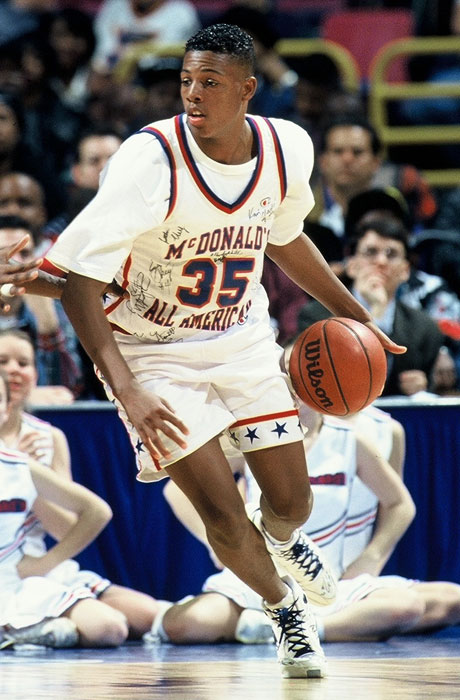 When he entered Inglewood High School, he was, by all appearances, an average basketball player. His skills were evident, but he lacked the prototypical size and strength that usually signify a college prospect, and was cut from the varsity team as a freshman. Paul was undeterred. He started going to school at 5 AM to practice with a few other players on the team. A year later, the 5'8″ sophomore made the varsity squad. Barely.
"By the holiday break, I was on the verge of moving him back down to JV," Inglewood head coach Patrick Roy said. "But we had like five guys out during this holiday tournament, so I kept him around."
The first game of the tournament saw Inglewood on the wrong side of a lopsided game. Roy thought it was a decent chance to get the young Pierce on the court.
"We were down 18, 19 points in the second half. So late in the third quarter, I decided to put Paul in to give him some time, since I didn't think we'd be able to come back," Roy said. "But as soon as I put him in, he just took over. I think he scored like 21 points, had nine rebounds, six assists. He just took that whole game over."
His spot in the starting lineup now secure, Paul worked even harder. His body began to catch up to his ability. His junior year, Paul lead the Sentinels to a 30-win season, and a division title. His senior year saw him become the number one high school prospect in the state of California, and earn a spot alongside other future stars like Kevin Garnett, Stephon Marbury, Antawn Jamison and Vince Carter in the McDonald's All-American game. He even participated in the Slam Dunk Competition, losing to the high-flying Carter.
ROCK CHALK, JAYHAWK
By that time, Pierce had already decided to attend the University of Kansas, and play for legendary coach Roy Williams. Williams had been his most persistent recruiter, but earned Paul's respect for his recruiting approach.
"He didn't promise me anything," Paul said. "He said, 'You're going to go here, you're going to work just like everybody else, and I'm going to stay on you'. That was enough for me."
Williams was equally high on his young star-in-the-making.
"I tried to sell him on the fact that he could be the missing piece to the puzzle," Williams said in an interview for Beyond the Glory. "But, that he'd have to earn it."
Paul burst onto the scene in Lawrence, earning Big Eight Freshman of the Year honors in 1996. He followed that with back-to-back Big 12 Conference Tournament MVP awards, and was voted an All-American after his junior season.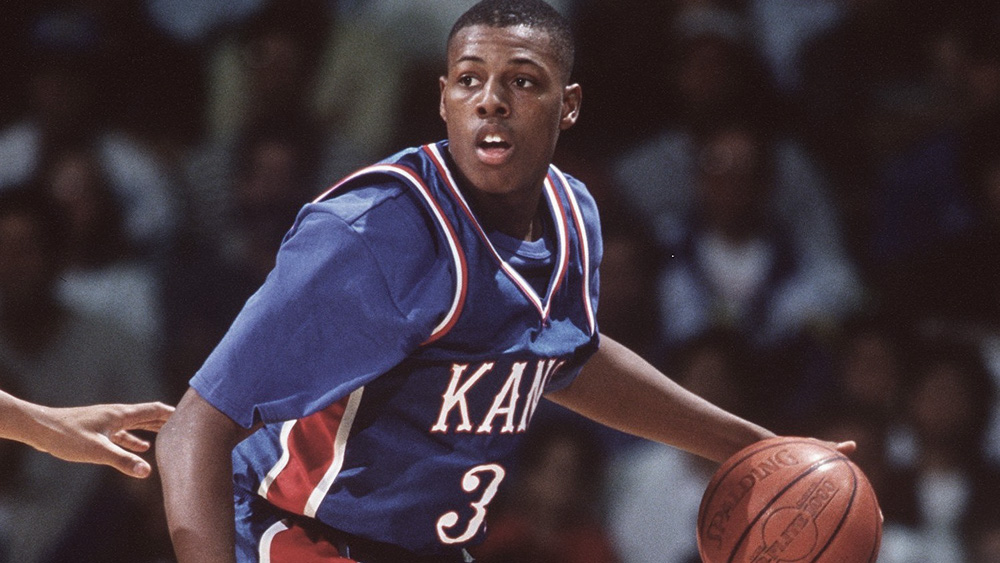 All the while, he was developing a reputation for being a player whose game rose with the importance of the situation.
"The bigger the game, the bigger he played," Williams said.
His sophomore season saw the Jayhawks enter the NCAA tournament with only a single loss, and the overwhelming favorite to win the national title. But a heartbreaking 85-82 defeat to Arizona — the eventual champions — in the Sweet Sixteen shattered Paul's dreams. At the post-game press conference, Paul broke down, showing the heart and emotion fans would come to recognize as unmistakably his. Over his career as a Jayhawk, Pierce averaged 16.4 points and 6.3 rebounds per game, and was regarded as one of the premier college players in the country. At the end of his junior season, it was time for Paul to take the next step in his career.
BOSTON'S NEW SON
Paul was regarded as one of the top prospects in the 1998 NBA draft, a sure-fire lottery pick. But as the draft began, and names were read, one after another, he began to slide down the draft board. At pick number 10, Paul's destiny changed forever.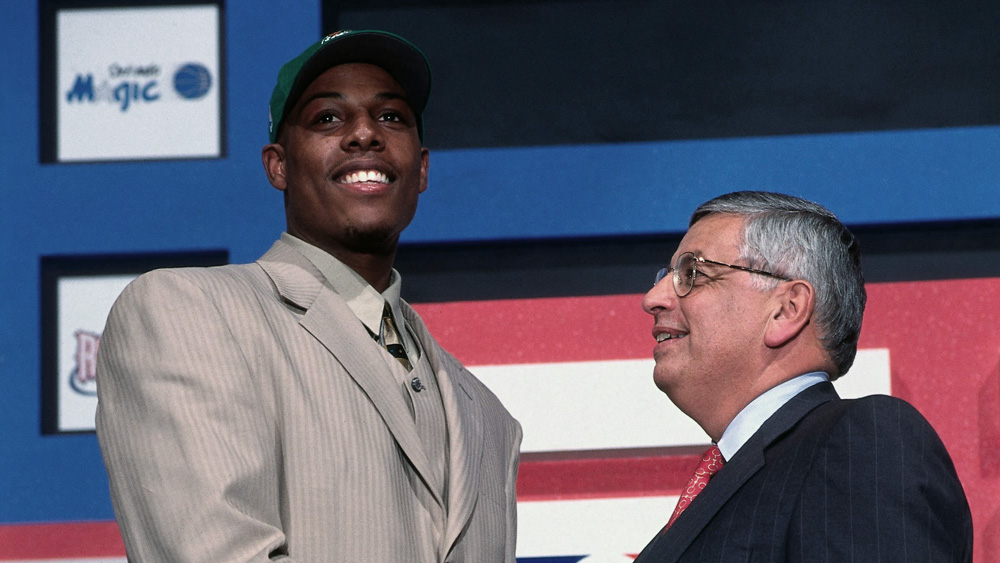 He was selected by the Boston Celtics, a team that hadn't even worked out the small forward prior to the draft. It was a tribute to his talent.
"When it came to our draft board," said then Celtics G.M. Chris Wallace to Sports Illustrated in 2008, "we didn't have Pierce in our state, let alone our neighborhood."
A member of the team he had despised growing up, Paul was heir to the same parquet floor that Larry Bird and Bill Russell had made their own. A part of the Celtics tradition, the player who was expected to lead the franchise back to its rightful place atop the league, he had tremendous expectations to fulfill. From his very first game, Paul made his commitment to that tradition clear. A starter from the outset, he scored 19 or more points in 10 of his first 11 contests and was on his way to being one of the best young players in the game. For the year, he averaged 16.5 points and finished third in the voting for Rookie of the Year honors. His second season, he raised his scoring average to 19.5 points per game and was turning into one of the elite offensive players in the NBA. By his third year in the league, Paul was ready for a breakout year.
"I'm gonna' come out and show the world, 'This is what I got.'" Pierce said to Beyond the Glory. "It's time to unleash the dragon."
NEARLY A TRAGEDY
Paul's NBA dreams and his life, would be put in serious danger just one month before his third NBA season. In September of 2000, Pierce and two teammates went out to the Buzz Club, a local Boston nightclub.
"That was the night that changed my life forever," Paul said.
Boston police arrived at the club at 1 AM, responding to a call that someone had been stabbed. Paul was the victim.
"A couple ladies were in there, I stopped to say hi, and next thing you know, I was in a mix with somebody," he recalled. "Everything happened so fast, I can't even tell you how long it lasted."
He had been stabbrf 11 times, in the face, neck and back. Two things saved his life. First, the club was just minutes from New England Medical Center, which allowed Paul to receive treatment before losing a lethal amount of blood. Second, Paul was wearing a heavy leather jacket, and the thickness of his coat kept knife blows — like the one that penetrated seven inches into his abdomen — from reaching his heart. Instead the knife just missed a number of key internal organs. He would survive.
"It's not something you're going to forget," he told Sports Illustrated in 2008. "I'm fortunate to be here. I feel a lot older from the simple fact I had a brush with death and saw my life flash before my eyes. You grow up 10 times as fast."
NBA ELITE
Incredibly, one month after the incident, Paul was in Boston's starting lineup to start the 2000-2001 NBA season. It would turn out to be his best so far: He averaged 25.3 points per game, and was selected to his first All-Star team. He was also given a nickname — the Truth. A year later, No. 34 led the Celtics on a surprise run to the Eastern Conference Finals (see right). It included the biggest come-from-behind victory in playoff history, overcoming a 21-point fourth-quarter deficit to beat the New Jersey Nets in game three.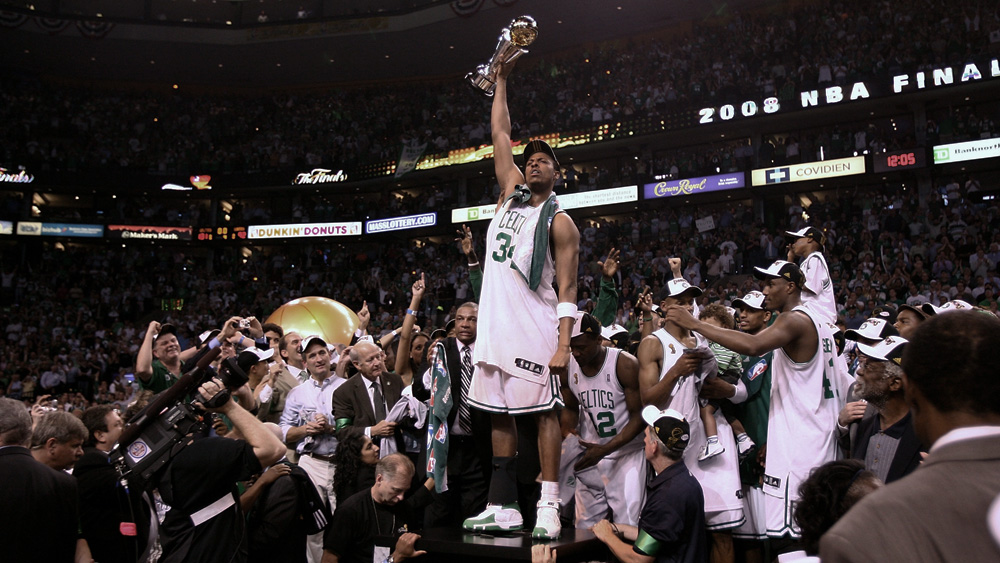 Nineteen of Paul's 28 points had come in the game's final period.
The 2002 season was also a great year for Paul on a different front. He started his own foundation, the Truth Fund, which helped provide educational and athletic opportunities for disadvantaged youths in the greater Boston area, as well as his hometown of Inglewood. He also received the NBA's Home Team Community Service Award for his outstanding charitable contributions.
From 2002 to 2006, Paul made the All-Star team every season. He led the league in total points (2,144) in 2002, and was an All-NBA Third team Selection in 2002 and 2003. He was also selected as a member of the US national team in 2002, and played in the FIBA World Championships. But while Paul was achieving astounding personal success, the Celtics as a franchise was stumbling.
In the 2006-'07 season, Boston finished with 24 wins — second-worst record in the NBA — and Pierce played only 47 games due to injury. Unsure of his place in the Celtics' long-term plans, he set out for the offseason wondering what his fate might be. Then, on draft night in April 2007, the world shifted. Boston general manager Danny Ainge worked two trades that brought veteran superstars Ray Allen and Kevin Garnett to the Celtics, surrounding Paul with the talent he had never been fortunate enough to have. Quickly dubbed, "The Big Three", Paul, KG and Ray orchestrated a heretofore unseen turnaround, leading Boston to 66 wins and an eventual NBA championship — the first for all three players, the 17th in franchise history. Paul led the way, nabbing the coveted NBA Finals MVP award.
"We want to be remembered as one of the great teams in Celtics history — it's our turn to make our own legacy," he told USA Today. "That's our motivation, and, as competitors, you're always looking for a new challenge."
Led by Paul, the Celtics would return to the NBA Finals in 2010, but they fell short in another epic, historic Boston-LA battle, falling to the Lakers in seven games.
BROOKLYN-BOUND
When Ray Allen left Boston for the Miami Heat in 2012, the Big Three era for the Celtics was over. The following season, the franchise disbanded the squad for good, sending Paul and Kevin Garnett to the Brooklyn Nets. It was a shock to the NBA world, and a dramatic change for No. 34, who had spent his entire career in Boston.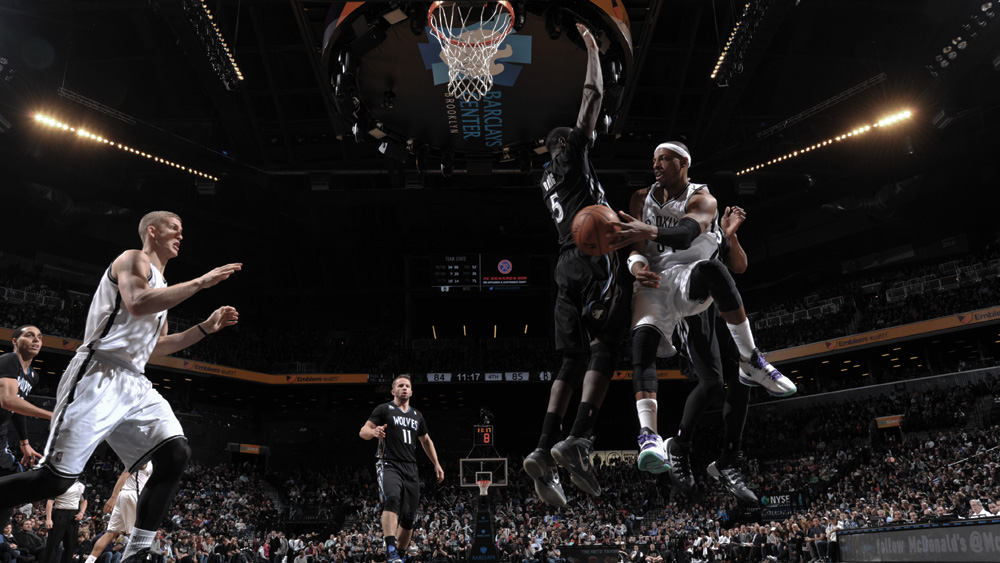 For Brooklyn owner Mikhail Prokhorov, however, it was a moment to rejoice.
"Today, the basketball gods smiled on the Nets,"he said. "With the arrival of Kevin Garnett and Paul Pierce, we have achieved a great balance on our roster between veteran stars and young talents. This team will be dazzling to watch and tough to compete against."
Paul, for his part, agreed.
"I'm a Brooklyn Net…At some point we all have to move on, and I'm here to try to create some kind of legacy here in Brooklyn."
The Truth brought fire and passion that Brooklyn sorely lacked during a first-round playoff exit in 2012-13. Under his leadership, the Nets waged numerous hard-fought battles throughout the course of the year, giving birth to new rivalries with Miami and Toronto. In the first round of the playoffs, Brooklyn batted a pesky young Toronto team through seven hard-fought games. In the final deciding contest, it was the Truth who blocked Kyle Lowry's shot at the buzzer, preserving the win and sending the Nets to the Eastern Conference semifinals against Miami, the defending champions.
"That's why he's here," said Brooklyn coach Jason Kidd afterward. "To make plays."
Unfortunately for Paul and Brooklyn, the well-rested Heat proved too formidable an adversary in the next round, and the Nets season ended after Game 5. Nonetheless, No. 34 looked back on the year favorably.
"This organization is headed in the right direction," Paul said after the season. "We came up short on our goal. Most times when you shoot for high goals and you fail at it, you look at it as a stepping stone to get better, to learn from."'
MR. PIERCE GOES TO WASHINGTON
In the summer of 2014, after a season with Brooklyn, Paul found himself on the free-agent market for the first time in several years. He chose to join a young, talented Washington Wizards team, hoping to provide the franchise with the veteran leadership necessary to turn it into a real contender.
No. 34 announced his decision via a tweet early on a Sunday morning, priming president Barack Obama and Wiz point guard John Wall for his impending arrival.
Obama , J Wall here I come

— Paul Pierce (@paulpierce34) July 13, 2014
Wall promptly shared his excitement with The Truth's decision.
Welcome the truth @paulpierce34 to Dc…#wizkids !!

— John Wall (@JohnWall) July 13, 2014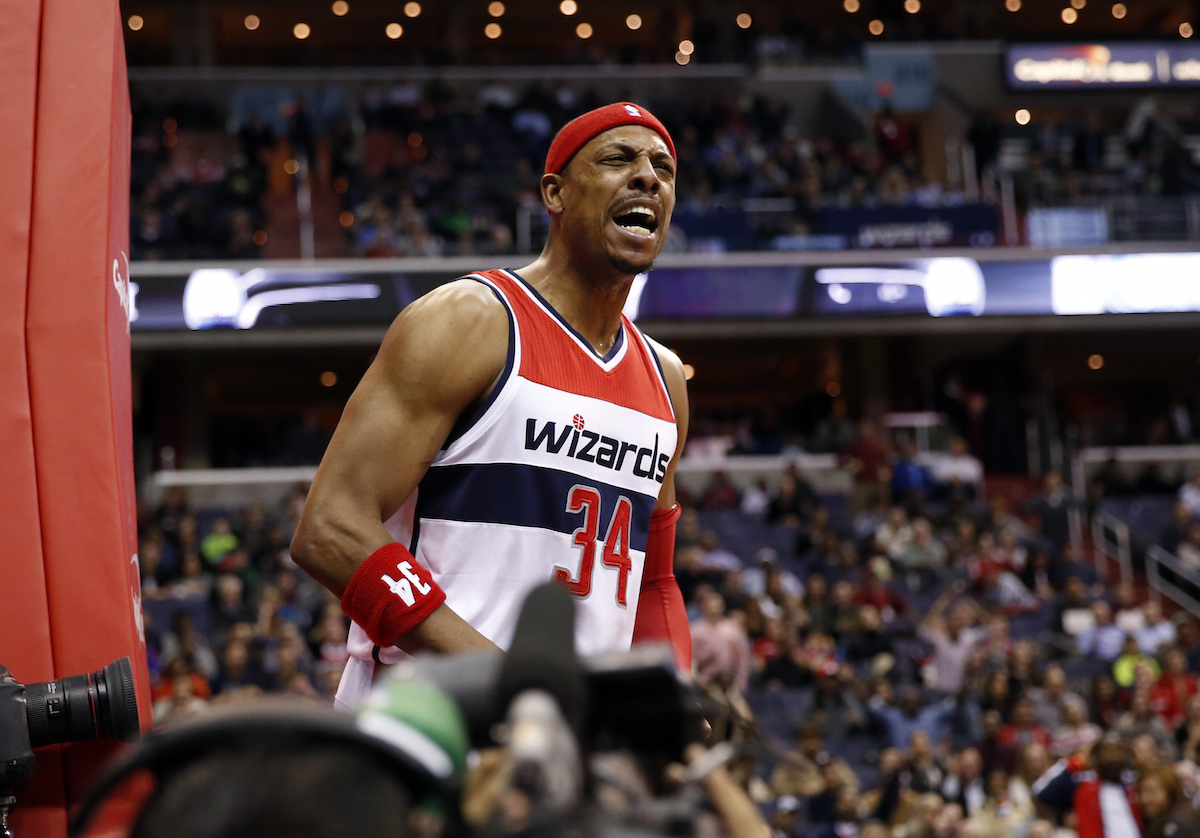 Wizards assistant coach Sam Cassell, a teammate of Paul's on the 2008 Celtics championship team, raved about the addition to NBA.com's David Aldridge:
"It's big that we got him. Huge, rather. He was the captain of the Celtics for 13, 14 years. That's an honor that's not too easy to get, and he had it for a long, long time. When we won the championship, Kevin — Ticket — wasn't the captain. Ray (Allen) wasn't the captain. Paul Pierce was the captain," Cassell said. "It's a blessing to have that kind of leadership, that kind of experience come to your team."
Paul's time in D.C. was short but meaningful. He mentored young stars John Wall and Bradley Beal. He helped Washington reach the 2015 playoffs and after the Wizards swept Toronto in the first round, Paul left his mark on the franchise with a thrilling finish to Game 2 of the Eastern Conference Semifinals when he called "Game."
BACK TO L.A.
After one season in Washington, Paul decided to rejoin his former coach in Boston, Doc Rivers, bringing his veteran knowledge and leadership to the Los Angeles Clippers.
As reported by ESPN on July 10, 2015:
The 10-time All-Star forward formally signed with the team on Friday after spending last season with Washington, with which he averaged 11.9 points, 4.0 rebounds and 2.0 assists while starting 73 games.

He reportedly agreed to a $10 million, three-year deal after turning down the Wizards.
For the first time in his career, Paul was coming off the bench, but he did what he could to find places to contribute. He also continued to hit career milestones. In a game against the Sacramento Kings on Jan. 16, 2016, No. 34 passed 45,000 minutes played for his career, becoming the 17th player in the history of the Association to pass that mark.
At the beginning of the 2016-17 season, Paul announced that it would be his final year as an NBA player. He played in 25 games, including seven starts, the most notable of those a final trip back to Boston, where he left an undeniable on the franchise and the city, and had one more magic moment at the garden.
The following season, the Celtics gave Paul the ultimate honor, retiring his number 34 and raising it to the rafters at TD Garden on February 11, 2018.
THE WORLDWIDE LEADER
Shortly after Paul completed his playing career, The Truth joined ESPN as an NBA Studio Analyst.
ESPN NBA coordinating producer Amina Hussein was thrilled when Paul joined ESPN because of the insight he can bring to the desk on a daily basis.
"It's going to be great for NBA fans to have Paul join NBA Countdown and The Jump on a full-time basis. I'm excited for our viewers to get the full 'Truth' – because Paul's analysis matches his personality – he's very honest, candid and his energy is infectious.  His insights and anecdotes about his legendary playing career jump off the screen."
To this day, The Truth remains a centerpiece of ESPN's coverage of the NBA contributing regularly to NBA Countdown pre and postgame shows, making regular appearances on SportsCenter and serving as an analyst on ESPN's daily NBA program The Jump, providing his take on the most compelling topics around the association by drawing on his own experiences in the league and his knowledge of the game.