Paul Pierce helped jolt the Los Angeles Clippers early and often, but the Utah Jazz used a late surge to take the preseason game, 96-94, at the STAPLES Center on Monday.
No. 34 finished with seven points, one rebound and a block over 11 minutes. Although his time was split, he proved to be effective whenever he hit the hardwood.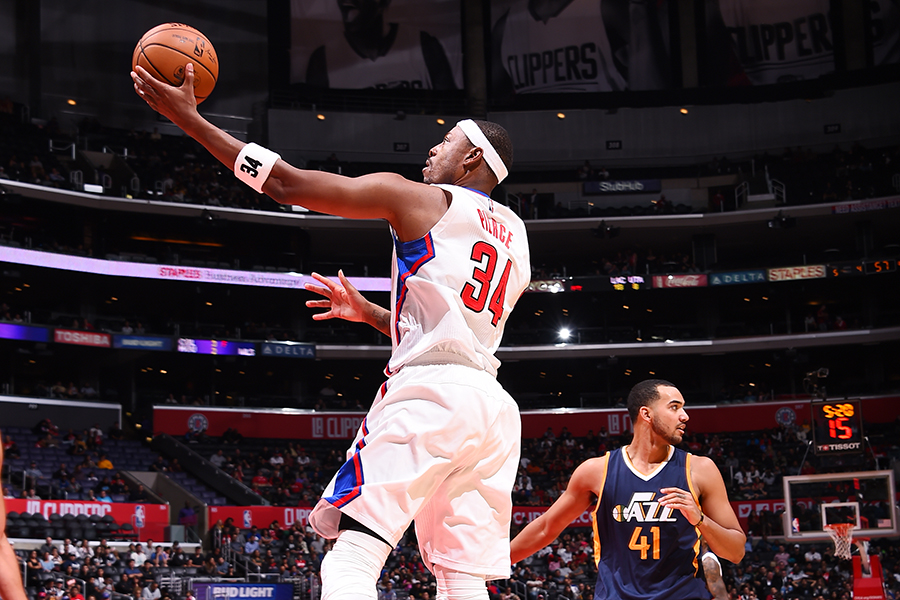 When Paul first entered the contest late in the first quarter, he almost immediately began contributing on the defensive end. With less than a minute remaining in the period, he blocked a four-foot jumper and collected the rebound, which prevented the Jazz from scoring again in the quarter.
Utah carried a 24-19 edge into the second stanza before Paul opened the quarter with a 16-foot-jumper, assisted by point guard Chris Paul. The Clips lagged by a slim margin the rest of the half, eventually trailing 46-39 at the break.
L.A. regrouped over halftime and started the third period with a 13-2 burst. Power forward Luc Mbah a Moute capped the run with a three-foot layup to give the Clips a 52-48 advantage at the 8:32 mark.
Just like Paul had done in the first half, when he entered the game in the second, he almost immediately started producing. Paul pushed the Clipper lead to 57-52 with a 26-foot-trey, assisted by point guard Austin Rivers, before padding the lead even further with a pair of free throws, 59-54.
The lead flipped back and forth throughout the remainder of the contest, but the Jazz scored seven of the final nine points to escape L.A. with their second straight win.
Rodney Hood led the Jazz with 17 points on 7-of-9 shooting, while point guards Shelvin Mack and George Hill added 12 and 10 points, respectively. The Jazz shot 50 percent from the floor and 14 percent (2-of-14) from long range, while the Clippers shot 40 and 37 percent (10-of-27), respectively.
Shooting guard Jamal Crawford, the reigning Sixth Man of the Year, paced L.A. with 16 points off the bench, while CP3 (14 points, five assists), center Marreese Speights (14 points, two blocks) and Blake Griffin (13 points, three rebounds) all reached double-digit scoring as well.
The Clippers (1-2) conclude their three-game homestand on Thursday, hosting the Portland Trail Blazers (2-0) at the STAPLES Center. Tipoff is timed for 7:30 p.m. PT.