Paul Pierce spent the last three weeks preparing for a possible post-playing gig as he joined the crew of ESPN's NBA Countdown for The NBA Finals, and just like he always has as a player, Paul used his experience to come up clutch at the end, this time with his championship prediction.
Reflecting on his collection of heated playoff battles with LeBron James over the years, The Truth was the only analyst to pick the Cleveland Cavaliers in a Game 7 road upset over MVP Stephen Curry and the Golden State Warriors—and he was, of course, the only one to get his prediction right.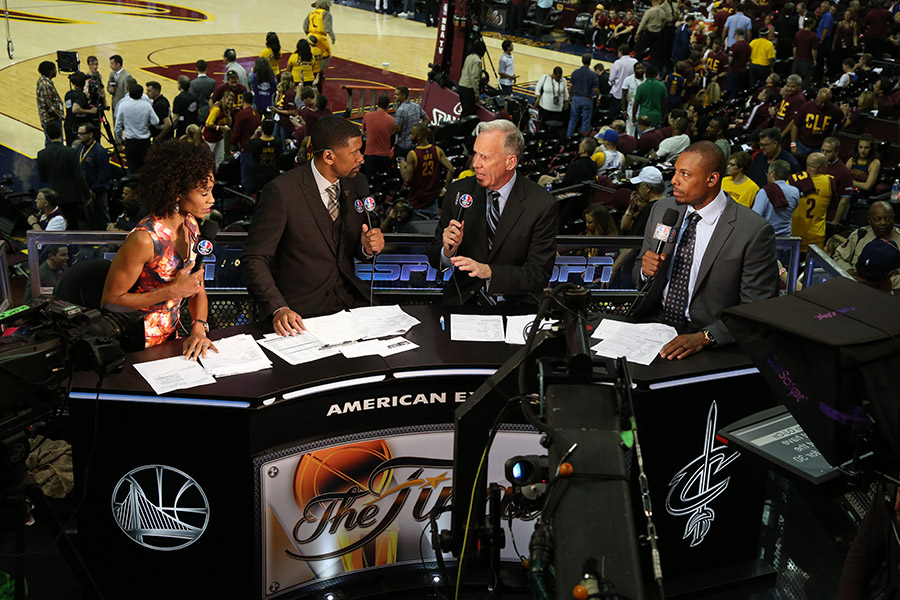 The Truth joined the Countdown cast for the Finals along with ESPN NBA staples Sage Steele, Jalen Rose and Doug Collins and fit right in as a commentator for the NBA's championship series.
Together, the crew spotted trends, pinpointed possible weaknesses and even made predictions before Game 1 of the best-of-seven series. The Warriors were the clear favorites among Paul's colleagues and The Truth acknowledged that the odds Cleveland faced were daunting. Before this season, the Cavaliers had never won a championship, despite 19 playoff appearances in the franchise's 44-year existence.
"I never thought in my lifetime that Cleveland would ever win a championship," Paul said. "I always thought certain franchises in this league have dark clouds over them."
But after recognizing the Cavs' gloomy history, but still picked them to win it all.
"Cavs in six," he said prior to tip-off.
It took seven games, but Cleveland won the series, breaking the city's 52-year championship drought. The defending champion Warriors actually jumped out to a 3-1 series lead, but the Cavs followed the lead of LeBron and budding star Kyrie Irving, and used their prowess in the paint to eventually force a Game 7.
Throughout the series, Paul stuck to his Cleveland pick, and even with the Cavs going back to the formidable Oracle Arena for a decisive Game 7, The Truth stuck with King James and Co.
"What pressure does LeBron have in a game 7?" Paul said. "He doesn't have to face me tonight."
That decisive game was nip-and-tuck battle, featuring 11 ties and 20 lead changes. Neither team led by more than eight points. But James came through with a triple-double—only the third in Finals Game 7 history—and Irving delivered the dagger, drilling a contested three-pointer with 53 seconds to go.
This year's NBA Finals generated some of the highest ratings in sports telecast history, and Paul picked up many fans along the way. The first six games averaged nearly 19 million viewers and Game 7 attracted nearly 31 million. Pierce has remained mum on what his future holds after his 18th NBA season ended in April, but the Finals made it clear that, if he wants it, The Truth has a future behind the analyst's desk.