With the 2015-16 season in the books for the Los Angeles Clippers, we're counting down Paul Pierce's five best games of the season. We conclude our countdown at No. 1, a game in which Paul dropped 20 points and collected five boards in a 109-104 win at the Utah Jazz on December 26, 2016. ICYMI: No. 2 on the 2015-16 list.
No. 1: Paul's season-high 20 scorches Utah
When the Los Angeles Clippers had the option to sink or swim, Paul Pierce rose to the occasion, dropping a season-high 20 points on the Utah Jazz on Dec. 26.
That 109-104 win represented something of a turning point in the season for Paul and for his team. It marked Los Angeles' first game without power forward Blake Griffin, who missed 45 games after tearing his left quadriceps tendon in a Christmas Day matchup with the Lakers.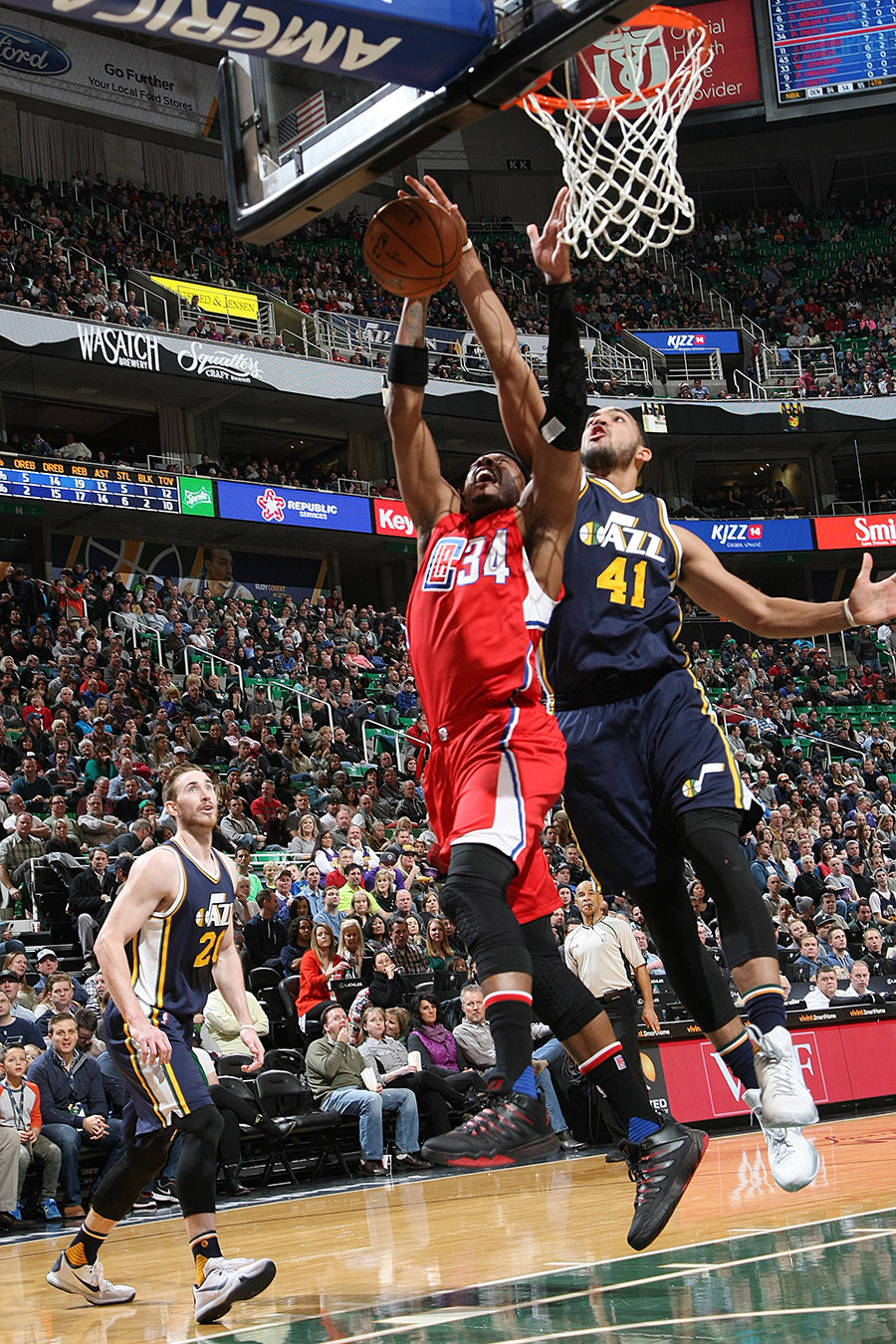 That holiday victory developed into a 10-game winning streak, in which Paul produced four double-digit scoring nights.
"There's a lot of things I can still do," said The Truth. "When I'm given the opportunity, playing within the offense. I'm not the go-to scorer I was years back where they would give it to me in isolation. I do a good job really playing off our stars pretty much and that's what I was able to do today. I'm out there with J.J. and Chris Paul and D.J. and they're going to take most of the attention, and I was able to take advantage of it."
Without Griffin, shooting guard J.J. Redick (25 points), point guard Chris Paul (19 points, 11 assists) and center DeAndre Jordan (14 points, 13 rebounds) helped power the Clips to their second-straight win.
"It's just good to get a win, especially without one of our leaders and go-to scorers out there and the second game of the road trip," Paul said. "It's not going to get any easier, so it was good to get the win. It's not just going to take me, it's going to take a number of guys to fill his role. He's an All-Star, he's an MVP candidate, so it's going to take a number of guys."
Paul tried to provide a spark early. With four minutes to go in the first, he caught the Utah defense sleeping. He took a pass up top from CP3 on the inbound, sprinted down a wide-open lane and threw down an emphatic one-handed slam, 19-11.
The Jazz pushed their lead to 11 in the second stanza, but the Clips kept chipping away, trimming the deficit to just five, 53-48, at the break.
In the locker room, coach Doc Rivers made an adjustment, and the Clipper offense took off. Paul and Redick combined to shoot 6-of-7 from three-point range for 11 points each.
With the score 64-58, a Jordan dunk started the rally, and Paul kept it going with a trifecta from the right wing to cut the lead to one. Then Redick caught fire. The Duke product hit three consecutive triples to make it a 12-0 Los Angeles run. The Clippers led by as many as 10 in the third, though the Jazz later trimmed it down to two, 79-77, going into the fourth.
"In the third quarter, having Paul in there just gave us spacing," Rivers revealed. "I thought Josh (Smith) played well. We just didn't have space with him and Luc (Mbah a Moute). By putting Paul on the floor, it gave us space."
Throughout the fourth, it looked like the Jazz might seize control on their home floor. Gordon Hayward (28 points) hit a fadeaway J to cut the L.A. lead to two, 102-100, with 46 seconds to go, but then, The Truth delivered a crushing blow to the home team's rally.
Paul slipped away from the Jazz defense and found space on the right wing. CP3 found the unguarded veteran and set him up for a wide-open three-pointer that gave the Clips a five-point advantage with 28 seconds left.
"It's great to see Paul Pierce hit big shots," Redick said. "That's why we brought him here."
CP3 and Redick went 4-for-4 down the stretch from the free-throw line to close it out. The Truth finished with his first 20-point output in a Clippers uniform, and coach Doc Rivers was glad to see his veteran find a rhythm.
"I think part of it is on me as much as it is on him and I've been saying that all year," Rivers said. "But it has to help his confidence and help him get in better rhythm with our guys."
Paul continued to find his rhythm during his first year with the Clippers, amassing 17 double-digit scoring nights by the season's end.