After the Los Angels Clippers' first two preseason games, Paul Pierce has already shown that he' going to fit right in with his new squad.
No. 34's role is still uncertain at this point. He was in the starting lineup for the Clips' preseason opener against the Denver Nuggets, a 103-96 victory, and then he came off the bench as Los Angeles fell 93-73 to the Toronto Raptors in Game 2.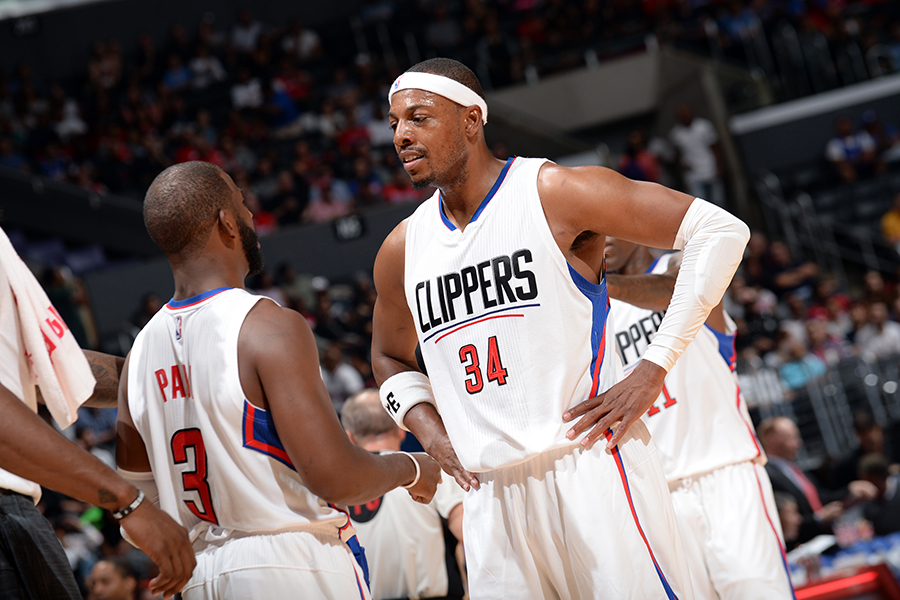 The Truth started at small forward in his Clipper debut, logging 14 minutes of action. He finished with five points, an assist, a rebound and a pair of steals, making some impact plays to help his new team. Head coach Doc Rivers came away from the win praising Paul's intelligence, and the way he slid seamlessly into the lineup.
"They just know each other," explained Doc when discussing how his team has been gelling with Pierce. "It's funny with Paul. Paul's just so smart, it's almost like he'd been playing with them already and that's where you can see the difference from him and Wes right now. Wes has not played as long as Paul, so for him, everything's new."
Paul drained one of his two three-point attempts and also made a standout play early in the game to give the Clippers their first points of the preseason. As the Nuggets were trying to get set, Paul swiped the ball away from Emmanuel Mudiay and hit DeAndre Jordan for a breakaway dunk.
Pierce's three-pointer came at an opportune time for the Clippers as they were trying to pull away from Denver in the third quarter. His three made it a 9-0 Clipper run and gave them a comfortable 67-48 lead. No. 34 will be counted on throughout the course of the season to provide the Clips with a reliable shot from beyond the arc whenever his number is called, which bodes well after his performance in the first preseason game with his new team.
Paul Pierce gets the steal and hits DeAndre Jordan for the breakaway dunk and the first points of the preseason.

— NBAAllStar (@NBAAll_Star) October 3, 2015
This was the first basket of the preseason: DJ slam from Paul Pierce #ClippersNation https://t.co/qJKBTvsI4l

— Clippers Nation (@_ClippersNation) October 3, 2015
Paul Pierce with the steal, and assist to DeAndre Jordan for the SLAAAAAM DUNK!

— ClipperKyle (@ClipperKyle) October 3, 2015
Pablo Prigioni steals the inbounds and finds Paul Pierce for an open three, as this game quickly approaches blowout level. 67-48 Clippers.

— Nugg Love (@Nugg_Love) October 3, 2015
In the Clippers' second preseason game, Pierce's minuets were held in check, which was expected for the veteran as Rivers will want to keep Paul healthy for the enduring season ahead. Also, as expected, Rivers is still experimenting with different combinations and rotations with his host of several newcomers.
The results in this game were not as positive for the Los Angeles, as they fell 93-73 in Toronto, but there were some positives to take away from Paul's performance.
No.34 logged more than eight minutes of action coming off the bench for Wes Johnson, who started this contest at the small forward spot. The Truth's shot was on target again as he knocked down the only field goal he attempted with ease and also recorded a defensive rebound.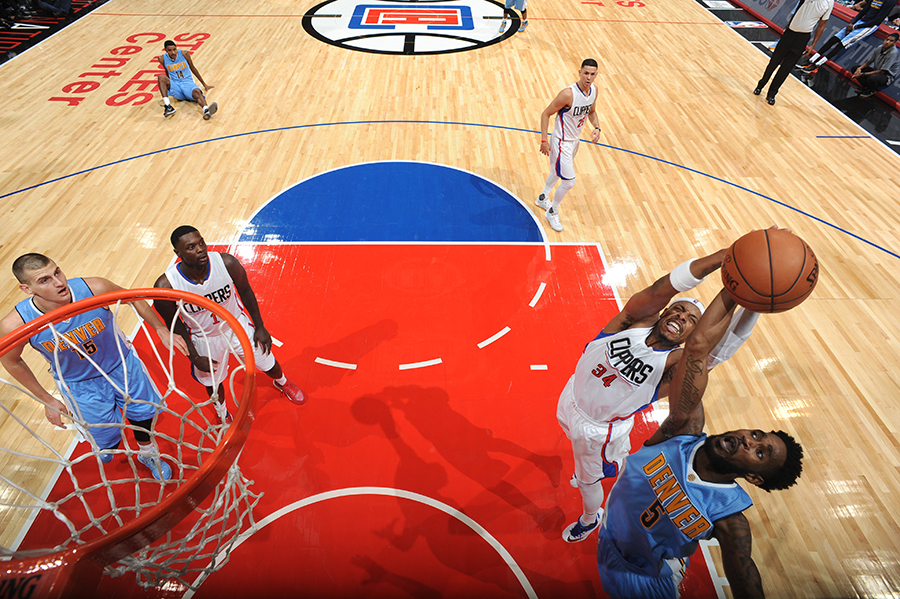 It will be interesting to see how the rotation between Johnson and Pierce plays out at small forward as the Clippers make their way through the preseason. Regardless of how it shakes out, the combination of versatility and depth bodes well for the championship hopefuls in the treacherous Western Conference.
NEXT UP
After Sunday's game in Vancouver, the Clippers made a brief stop back in LA before heading off on the second leg of their 16,622-mile preseason tour as part of the NBA Global Game in China.
The Clippers will spend a week in China and play two games against the Charlotte Hornets. The first of those games, from Shenzhen Universiade Center in Shenzhen is slated for Saturday at 10:30 p.m PT. Game 2 is on Wednesday at Mercedes-Benz Arena Shanghai and will tip at 5 a.m. PT. Both games can be seen on NBA TV.