Adding a proven winner like Paul Pierce to the mix has put title aspirations as high as they've ever been for the Los Angeles Clippers going into the 2015-16 NBA season, and one time-honored relationship that Paul's arrival in LA has reformed only adds fuel to that Clippers championship fire.
The Truth's return to Los Angeles to play for his hometown team also marks a reunion with the man who oversaw Paul's rise into an NBA champion, Finals MVP, and future Hall of Famer: coach Doc Rivers.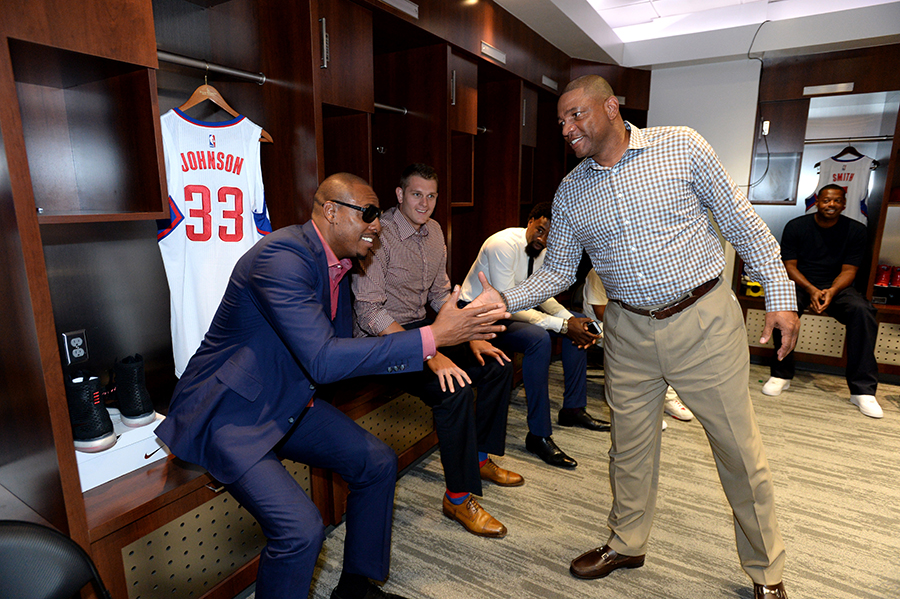 From the time they first came together more than 10 years ago in Boston, Paul and Doc have had a unique player-coach relationship that differs from many others around the NBA, one built on mutual respect and admiration.
The Truth played for nearly a decade under Rivers in Boston, more than half of Paul's NBA career. But after nine years together in Beantown, the two went their separate ways in the summer of 2013. Rivers went to Los Angeles to coach the Clippers and Paul was traded to Brooklyn for a year, then signed with Washington for another.
However, Paul and Doc always kept in touch, and after two years apart they've reunited in LA, set to chase a championship together once again.
"I played with Doc longer than any coach I ever played for in my career," Paul said during his introductory press conference is Los Angeles. "Definitely comfortable being around him, being with him. So that really helps out, especially when you go into a new situation, being around things you're comfortable with."
BUILT IN BOSTON
That comfort level was, of course, built 3,000 miles away from Los Angeles in Boston, where both men made their biggest mark on the NBA.
Paul played for six seasons in Boston before Rivers arrived, and was a three-time All-Star during that time. That six-year span was highlighted by a trip to the Eastern Conference Finals in 2002. But the Celtics fell short there and then fell back in the pack. Rivers took over as the team's coach in 2004 and guided them to a playoff berth in his first season, however two straight losing seasons followed leaving many questioning where the Celtics were headed and whether Paul or Doc would be part of the franchise's future.
Those questions were answered emphatically during the 2007 offseason when the Celtics acquired Kevin Garnett and Ray Allen in a pair of trades that changed the course of the franchise. The formation of Boston's "Big Three" under Rivers was the start of a five-year run of excellence in Boston. That run included three Eastern Conference Finals trips, two NBA Finals appearances and a NBA Finals victory over the hated rival Los Angeles Lakers in 2008, which broke a 22-year championship drought for the franchise when Paul, the Finals MVP, and Doc brought home home a league-best 17th NBA title.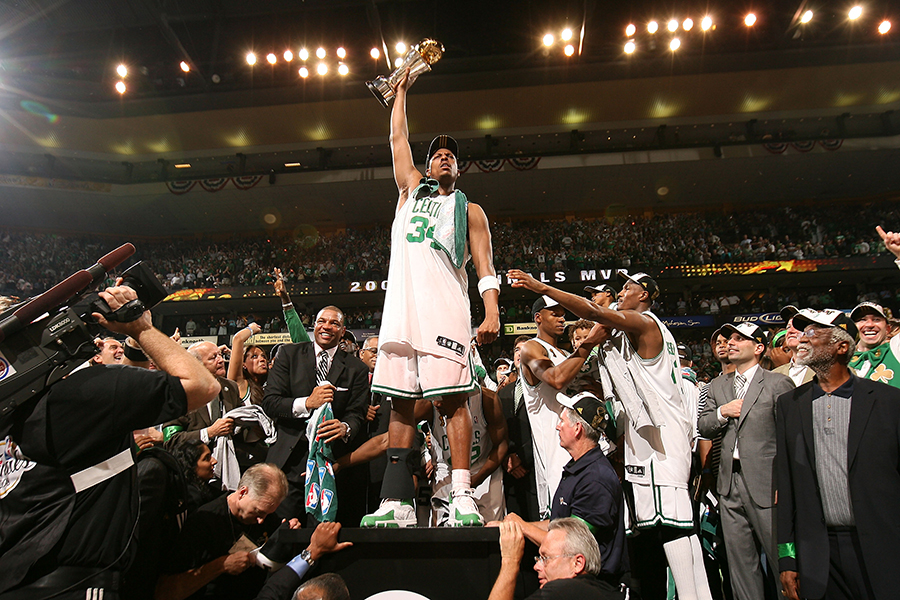 During that memorable run it was all but assumed that Paul would retire as a member of the Celtics, likely with Rivers still as the head coach. But after the C's staggered to a 41-40 record in 2012-13, Boston GM Danny Ainge has to start thinking about pulling the trigger on a rebuild.
In June of 2013, the Celtics made the unusual move of trading their coach, sending Rivers to the Clippers in exchange for a 2015 first round draft pick. Just a few weeks later, Pierce and Garnett were traded to Brooklyn, abruptly ending a memorable era in Boston.
Still, the mark No. 34 left on a storied Celtics franchise ranks among some of the greatest to ever don the green and white. Pierce ranks second on the franchise's all-time scoring list with 24,401 points, third in games played, third in minutes logged, first in steals, first in free throws made and attempted, fifth in assists and fourth in blocks.
Paul isn't one to shy away from his attachment to Boston and the memories he created there. Every time No. 34 returns to TD Garden he reminisces about the incredible run he went on with Rivers in Boston, and how unforgettable that chapter in his career was.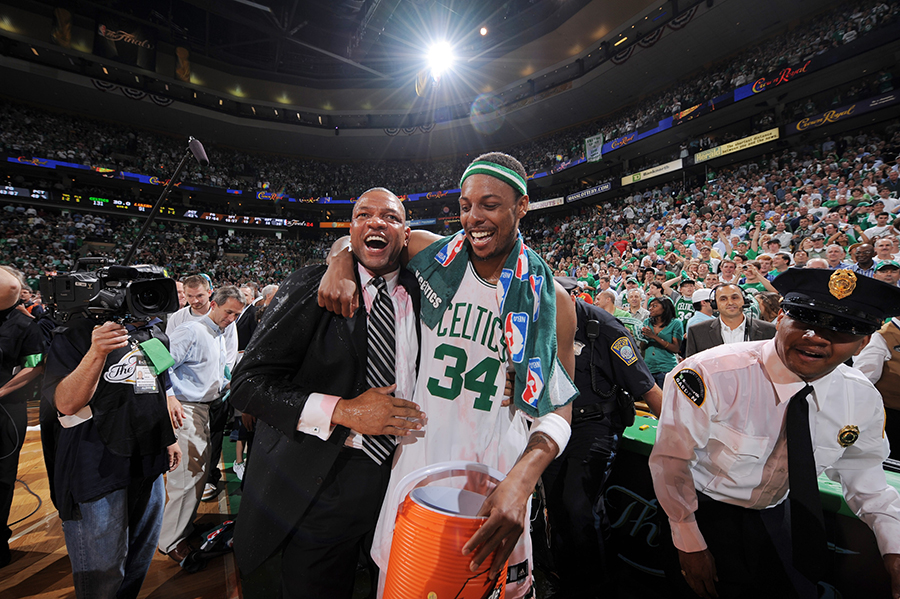 The Truth recalled that emotion last season during a trip back to Boston as a member of the Washington Wizards, in an interview with the Washington Post. He said then that he never saw himself playing for a franchise other than the Celtics. But in the end, the NBA is a business, and iconic players don't always have the storybook endings they envision.
"I always miss it. It's always going to be a place that I'll remember. I had a lot of great years there," he said. "I definitely wanted to

[finish my career in Boston]. But the Celtics are still going to be the Celtics when I'm long gone. They still are the Celtics. It wasn't the Pierce Celtics. It was the Boston Celtics. They have that brand. They're still going to be there when I'm long, long gone. At the end it's about business and rebuilding and moving forward."

For his part, Rivers said during the Truth's brief run with the Wizards that he looks at Paul as someone who will be viewed as a "Celtic for life" regardless of what jersey he's wearing.

"Doesn't matter where he plays," Rivers said. "He'll always be a Celtic. And that's exactly what he should be. He's a Celtic playing for other teams. That's exactly the way I look at Paul. I'll never look at him as a Wizard. That's just not going to happen. He's just a Celtic playing for the Wizards, and we all know that."

REUNITED IN RED

However, that didn't stop Rivers from pursing a reunion with Paul.

The Clippers first pursued Paul after he became a free agent last offseason, however it didn't work out at that time and he signed with the Wizards. But when The Truth opted out of his contract in Washington after one season, Los Angeles was again hot on his trail and this time the two sides worked out an agreement.

As the two return to work together for a new team, Doc enters their second stints as coach and player well aware of what the Clips got when they signed The Truth, and he told the Dan Patrick Show earlier this offseason that he's excited to have Paul's gutsy attitude infused into his team once again.

"As a player, you know he's going to take big shots and make a lot of them," Rivers told Patrick. "The thing I love about him is he's never been scared to take them. It's great to have another guy on your team willing to do that."

Rivers also believes the move will pay big dividends for his team's unity and chemistry. Paul brings with him elite team-building and leadership characteristics that the coach is confident he can boost the Clippers just as he did Boston, where he witnessed first hand the Big Three of Pierce, Garnett and Allen sacrificing their egos to come together and play collectively as a unit.

"That team won it in the first year," Rivers said. "It took a lot of team-building to do that, a lot of sacrifice of shots, of egos. I think Paul has seen that. He knows what worked, and I think that'll really help our team."

The way Rivers speaks in such a high regard of Paul says something distinctive about the relationship the two share. Doc knows what The Truth brings to the table on a night-in and night-out basis and the rapport the duo developed in Boston was one of the main reasons Paul chose to sign with the Clips this offseason.

Now the reunited Rivers and Pierce have a chance to add to their legacies as one of more historic player-coach tandems in NBA history, as The Truth looks to end his career — back in his hometown of Los Angeles — with the same championship success he and Doc experienced together with the Celtics.