Last week, PaulPierce.net kicked off The Truth's summer series "Know The Truth" with it's title feature about how No. 34 earned his legendary nickname.
This week, we go back to a time long before Paul earned that moniker—when he starred for one of the most illustrious college basketball programs in the country: the University of Kansas.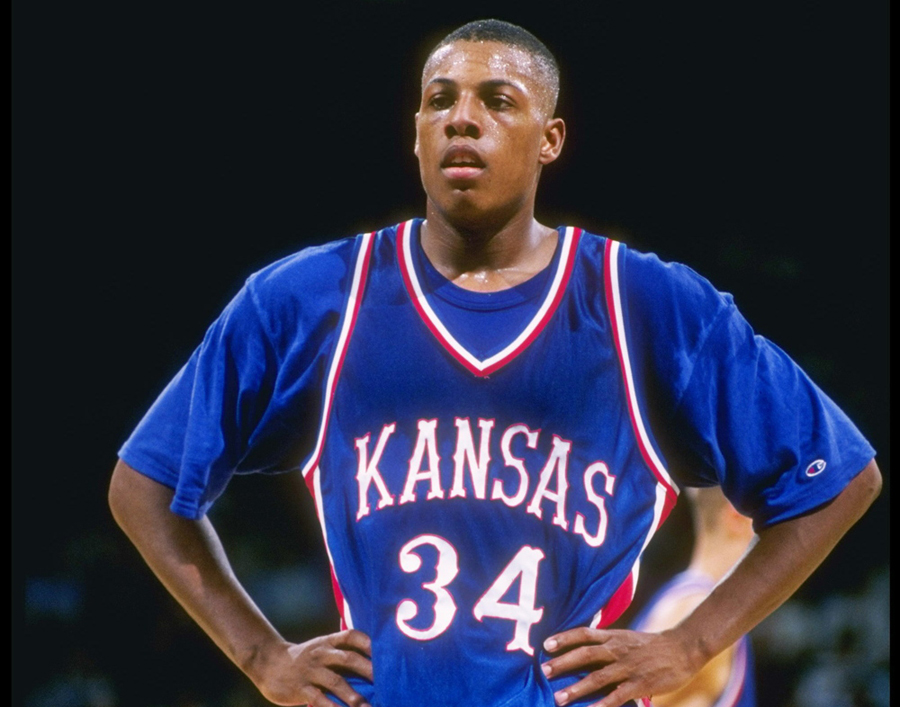 Rock, Chalk, Truth
There are only a handful of college basketball programs that can boast the tradition, history and esteemed list of alumni that Kansas does.
"No place compares to Allen Fieldhouse and the rich tradition that is Kansas basketball," Paul said when he returned to Lawrence for a KU All-Star showdown in 2011. "When you are a Jayhawk, you're a Jayhawk for life."
Coming out of high school as a McDonald's All-American team, Paul was one of the nation's most coveted recruits, so naturally he drew interest from schools far and wide from the country's best teams, like KU.
An Inglewood, Calif. native, Paul was recruited heavily by the local hoops heavyweight, UCLA. Though the decision was tough to leave home and spurn a five-star squad like the Bruins, it all came down to a turning point in the life of the man who would later become The Truth.
"I felt like I needed to get away from home—I was turning into a mama's boy, man, because both my brothers were older and so they were out of the house. When I was in junior high school, they were already in college, and so it was just me and my mom. So I felt like a lot of times my mom babied me, you know, because I was the youngest," Paul told ESPN's Dan Patrick in 2003. "So I was like, man, I need to get away. I need to get away and grow up and be on my own."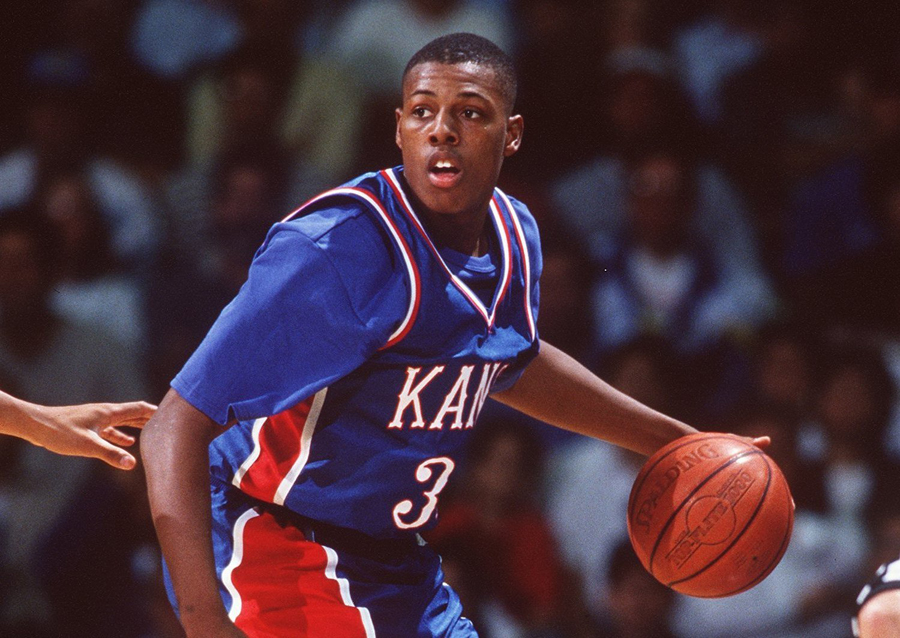 The pitch made by then Kansas head coach Roy Williams, who is now coach at the University of North Carolina, helped as well. In his autobiography, Williams detailed how he and his staff lured the Cali kid to the Midwest.
"Recruiting is like putting together a puzzle, and I mean that literally," Williams wrote. "When we recruited Paul Pierce at Kansas, we had four starters coming back, but we had no small forward. I asked my assistant Steve Robinson to make a little puzzle. He cut pieces out of a cardboard box; there were four corner pieces that represented our four starters and he left the centerpiece missing. We sent Paul the four corner pieces and then two days later, we sent the centerpiece in the shape of a star with Paul's picture on it and a message that read, You are the missing piece to the puzzle. That's what Paul turned out to be when we got him. Recruiting is about convincing kids that they are the missing piece that we need to be complete."
As Williams mentioned, Paul was exactly the missing piece KU needed. As the Jayhawks' swingman, he averaged just shy of 12 points per game, along with 5.8 rebounds, 1.8 assists and 1.3 steals for his freshman campaign.
Kansas won the regular season title in the Big 8 Conference—the last year before it became the Big 12—and reached the Elite Eight that season, before being ousted by Syracuse.
The next year, Paul came back even better. The Truth saw his scoring average jump to 16.3 points per contest, as he went from one of the pieces of the puzzle to a key cog in the Kansas basketball machine. KU dominated in the newly minted Big 12, losing just one game all season to win the conference regular season and tournament titles. Due to their regular season success, the Jayhawks nabbed a No. 1 seed in the NCAA Tournament, but their title dreams were derailed by destiny in the tourney.
In the Sweet 16, Kansas encountered Mike Bibby, Jason Terry (a future teammate of Paul's) and the eventual national champion Arizona Wildcats. Paul was fantastic in that game, scoring 27 points and hauling in 11 rebounds, as Arizona coach Lute Olson recalled in 2013.
"Pierce was our primary concern," Olson told WEEI. "We didn't solve him that night…He had an outstanding game. We were a team that had to win by putting four guys in double figures. We didn't have a Paul Pierce. At the time we didn't know it, but he was the best player we'd face in that tournament."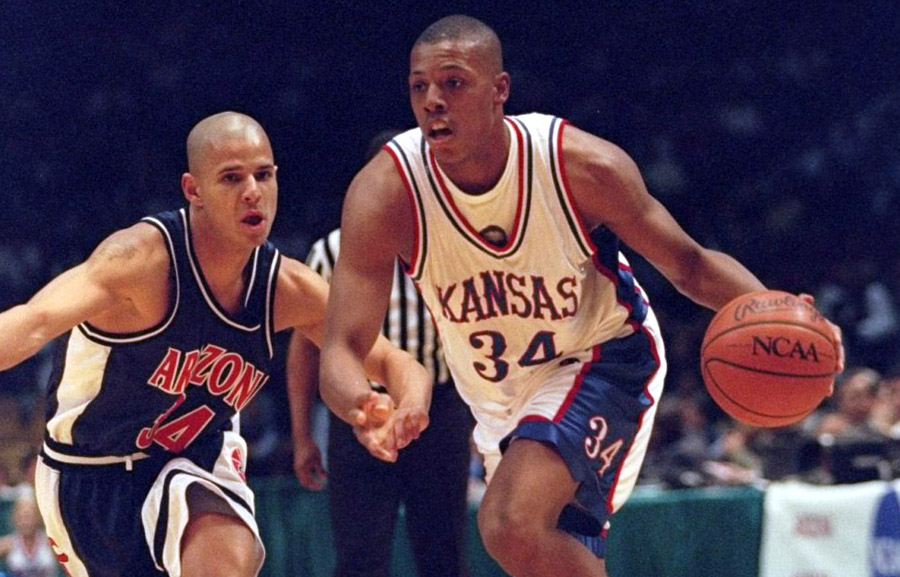 Arizona went on to beat another blue-blood program, North Carolina, in the Final Four before dethroning Kentucky to take the national title. Despite the heartbreaking loss, Paul kept his chin up and looked forward to Year 3 in Lawrence.
"It's definitely a tough loss for us," Paul said after the game. "We worked so hard all year to get to this point. Unfortunately, we kind of fell short and are a little bit disappointed, but I'm not going to hold my head down."
Rather that dwell on the defeat, Paul's squad used the early tournament exit to fuel another dominating regular-season run in 1997-98.
Once again, the Jayhawks dominated their Big 12 competition and ran through the league at 15-1, with just a single one-point defeat on the road against rival Missouri. They once again won the regular season title with ease and did the same in the Big 12 tourney, earning a second consecutive No. 1 seed in the NCAA Tournament.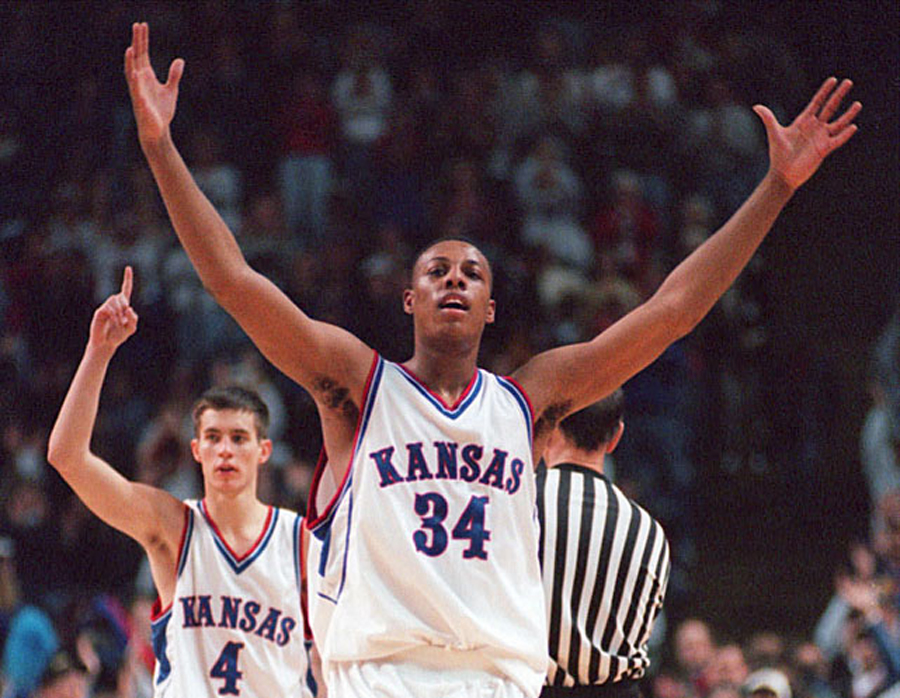 The Jayhawks began their tournament by blasting No. 16 seed Prairie View A&M, 110-52. Unfortunately, Kansas was ousted in just the second round by No. 9 seed Rhode Island despite a strong 23-point effort from The Truth.
After seeing their tourney run end early yet gain, Paul and the Jayhawks were devastated.
"We're all hurting," coach Roy Williams said. "Been a fantastic year with fantastic moments. This is not one of them."
Despite the disappointing end, it was a fantastic year for Paul individually. He averaged more than 20 points per game and was named an All-American.
After three years in the Kansas crimson and blue, he declared for the 1998 NBA draft.
"It's always been my dream to play in the NBA and hopefully this is a good opportunity for me," Pierce said at his announcement. "I feel like it's my time. I feel like I'm more than ready."
His coach agreed, giving The Truth his blessing to leave Lawrence and head to the next chapter in his career.
"I told him there was no doubt in my mind that he was ready," Williams said. "I don't think there's any doubt it's the best decision for Paul. The young man has given us three great years. (He is) a youngster who is a far, far better person than he is a basketball player."
RELATED ARTICLES