The Truth is coming to the nation's capitol.
Paul Pierce picked his destination for the 2014-15 season on Saturday, and he'll be joining one of the Eastern Conference's top young rosters: the Washington Wizards. Paul announced his choice via a tweet early Sunday morning, priming president Barack Obama and Wiz point guard John Wall for his impending arrival.
Obama , J Wall here I come

— Paul Pierce (@paulpierce34) July 13, 2014
Wall promptly shared his excitement with The Truth's decision.
Paul averaged 13.5 points, 2.4 assists and 4.6 boards per game last year while guiding the Brooklyn Nets to the second round of the playoffs, where they were eliminated following consecutive heartbreaking losses to the eventual conference champion Miami Heat. Prior to that, No. 34 spent 15 seasons with the Boston Celtics, where he won an NBA title in 2008, was named NBA Finals MVP and made 10 All-Star rosters.
Wizards assistant coach Sam Cassell, a teammate of Paul's on that 2008 Celtics championship team raved about the addition to NBA.com's David Aldridge:
"It's big that we got him. Huge, rather. He was the captain of the Celtics for 13, 14 years. That's an honor that's not too easy to get, and he had it for a long, long time. When we won the championship, Kevin — Ticket — wasn't the captain. Ray (Allen) wasn't the captain. Paul Pierce was the captain," Cassell said. "It's a blessing to have that kind of leadership, that kind of experience come to your team."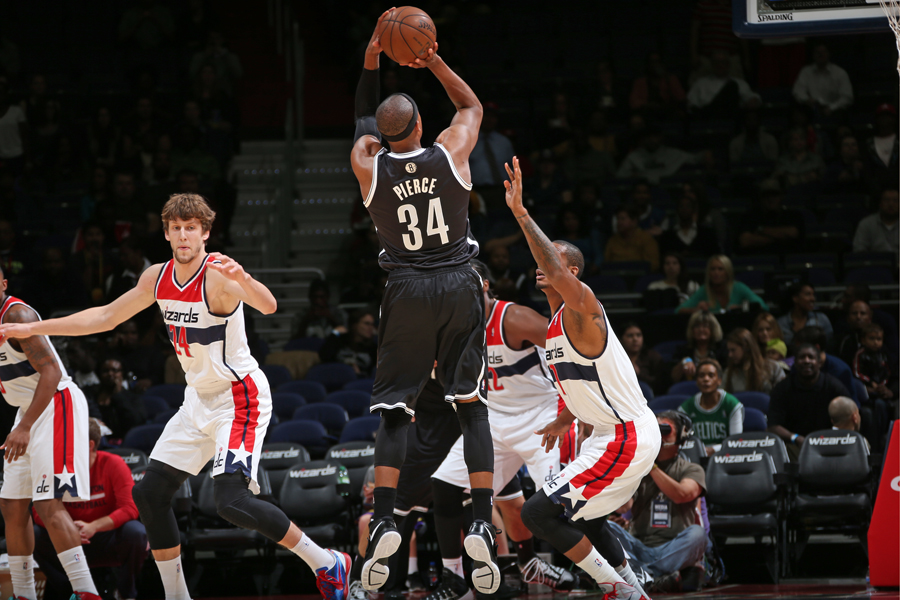 The former Kansas Jayhawk will join a Wizards squad that is led by a pair of burgeoning young guards: Wall and Bradley Beal. Wall averaged 19.3 points, 8.8 assists and 4.1 rebounds per game last year, while Beal added 17.1 points, 3.3 dimes and 3.7 boards.
Paul will likely be leaned on to fill in, at least in part, for the departed Trevor Ariza. The swingman averaged 14.4 points and 6.2 boards for Washington last year, but the Wizards sent him to the Houston Rockets in a sign-and-trade deal.
Washington finished the regular season 44-38, earning the fifth seed in the East, just ahead of the Nets. The Wizards were eliminated in six games by the Indiana Pacers in the conference semifinals. Paul was able to keep an eye on the budding Wizards from across the league, as they completed a season sweep and beat out his Nets for the No. 5 seed.
"They're good," The Truth said this past season. "They're coming into their own. They're growing up right before our eyes. You've seen their struggles over the years, and John Wall has matured as a player, obviously, becoming an all-star this year and taking on more responsibilities and becoming a leader for this ballclub. That's what the Washington Wizards have been waiting on, and you're seeing it."
RELATED ARTICLES