As the 2016 NBA Finals get set to begin, 2008 Finals MVP Paul Pierce is making a move from the court to the analyst's desk.
ESPN announced this week that The Truth will be joining the NBA Countdown pre-game show on ABC as a guest analyst for select games during the best-of-seven championship series.
"NBA Countdown will provide on-site pre-game and halftime coverage for every NBA Finals game. The team of host Sage Steele and analysts Doug Collins and Jalen Rose will work their third consecutive Finals together as a trio. The show will emanate from a set inside the arena. Additionally, Paul Pierce, 10-time NBA All-Star and 2008 NBA Finals MVP, will join the Countdown crew as a guest analyst for select games."
Paul just wrapped up his 18th season in the Association and his first with the Los Angeles Clippers.
One of the league's most experienced playoff veterans, he made his 13th career trip to the postseason this year.
The Truth also has plenty of experience in the league championship series, the NBA Finals, where he has made two career trips during his illustrious career.
The first was in 2008, when he led the Boston Celtics to their 17th NBA title, earning Finals MVP honors along the way. The Celtics nearly did it again in 2010 but were edged out by Kobe Bryant and the Los Angeles Lakers in Game 7 of one of the greatest Finals in league history.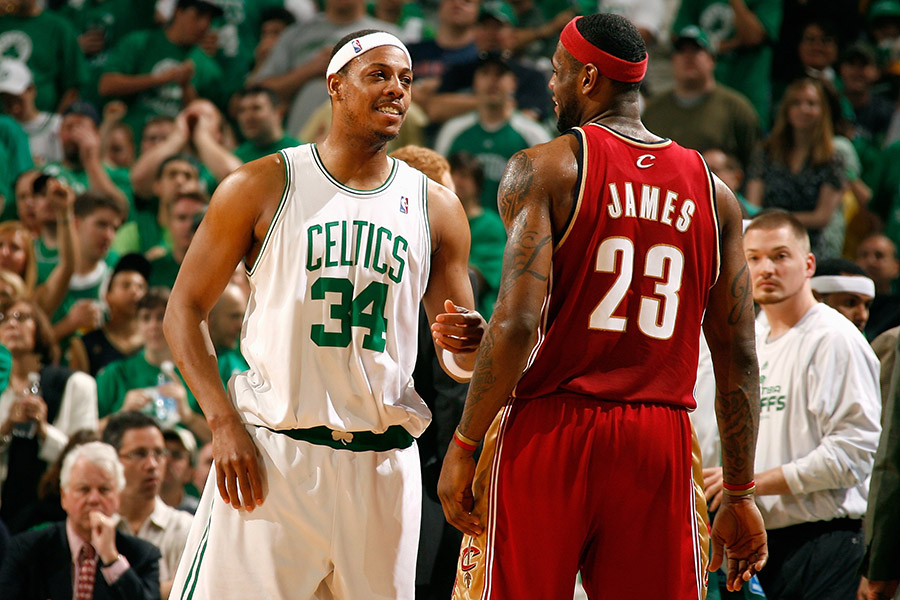 In both trips to the Finals, Paul and Co. had to make their way past LeBron James during his first stint with the Cleveland Cavaliers. As a member of the Miami Heat, James exacted revenge on Boston, topping Paul's squad en route to Eastern Conference championships in 2011 and 2012.
The Truth's long history against James and the Cavs makes him the NBA Countdown's authority on the East champions. He also has plenty of first-hand experience against the Western Conference champions—his Clippers tangled with MVP Stephen Curry and the Golden State Warriors four times during the 2015-16 regular season.
Paul's full NBA Countdown schedule is yet to be determined.
2016 NBA Finals on ABC schedule
| | | |
| --- | --- | --- |
| Date | Time (ET) | Telecast |
| Thu, June 2 | 6 p.m. | SportsCenter |
| | 8:30 p.m. | NBA Countdown |
| | 9 p.m. | NBA Finals Game 1 |
| Sun, June 5 | 6 p.m. | SportsCenter |
| | 7:30 p.m. | NBA Countdown |
| | 8 p.m. | NBA Finals Game 2 |
| Wed, June 8 | 6 p.m. | SportsCenter |
| | 8:30 p.m. | NBA Countdown |
| | 9 p.m. | NBA Finals Game 3 |
| Fri, June 10 | 6 p.m. | SportsCenter |
| | 8:30 p.m. | NBA Countdown |
| | 9 p.m. | NBA Finals Game 4 |
| Mon, June 13 | 6 p.m. | SportsCenter |
| | 8:30 p.m. | NBA Countdown |
| | 9 p.m. | NBA Finals Game 5* |
| Thu, June 16 | 6 p.m. | SportsCenter |
| | 8:30 p.m. | NBA Countdown |
| | 9 p.m. | NBA Finals Game 6* |
| Sun, June 19 | 6 p.m. | SportsCenter |
| | 7:30 p.m. | NBA Countdown |
| | 8 p.m. | NBA Finals Game 7* |
*if necessary