We continue our look back on Paul Pierce's 18th season in the NBA with some of the most interesting moments from his year with the Los Angeles Clippers, including the very best quotes, tweets and statistics from the 2015-16 season.
They Said It
Los Angeles Clippers head coach Doc Rivers:
"That's why he's so good. Paul's never used his athleticism, that's been his secret to me. He uses timing, and he outsmarts people. He uses his angles; he uses fundamentals. I said years ago Paul can play forever; he can play until he decides he doesn't want to play because he'll always be effective. I watched him in our gym this summer, playing with all these young guys in a pickup game, and he dominated the game. These guys are going a thousand miles an hour and here comes Paul. It's just funny to watch. I've seen it up close, and obviously I'm watching it from afar now."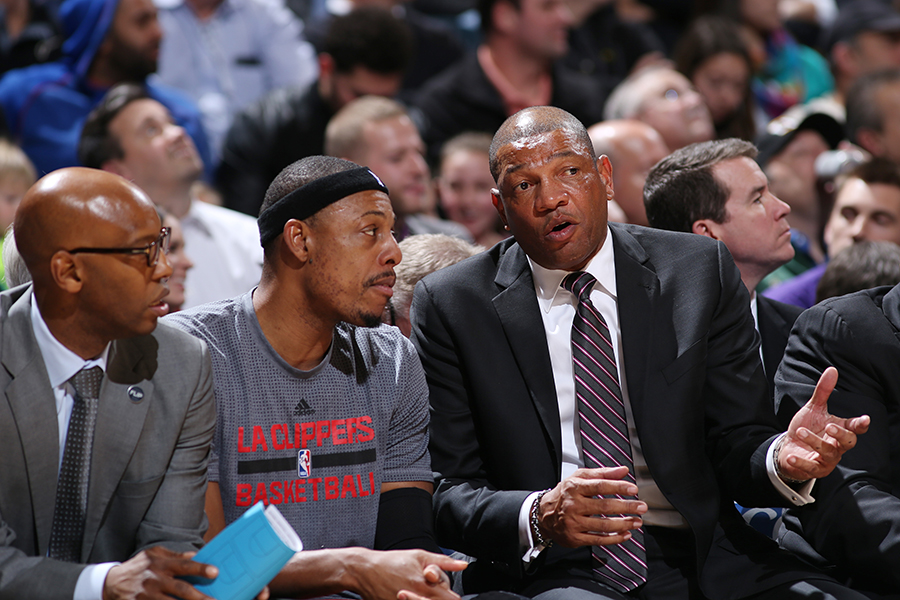 Boston Celtics head coach Brad Stevens when Paul returned to the T.D. Garden:
"When you see a guy like Paul, who's going to be a first-ballot Hall-of-Famer, all that he meant to this franchise, and continues to mean to this franchise. It's amazing, and it's fun to see the reception [he and Rivers] get."
Los Angeles Clippers point guard Chris Paul:
"(Paul) has given me an opportunity to be quiet a lot of times because he's always talking. It's been fun having another veteran like that, that extra voice in the locker room, and just the confidence that comes with Paul."
By The Numbers
2 — Paul is second among active players in the NBA with 2,128 three-pointers.
4 — The fourth-seeded Clippers earned a spot in the playoffs for the fifth straight season.
5 — Paul has drained a season-high five triples twice this season, once against the Utah Jazz on Dec. 26 and again versus the Portland Trailblazers on Jan. 6.
10 — The Clippers enjoyed a 10-game winning streak from Dec. 25 to Jan. 13.
17 — Paul logged 17 games of 10-plus points.
20 — The Truth totaled a season-high 20 points in the Clippers' 109-104 win over the Jazz on Dec. 26 as part of their longest winning streak of the season thus far.
53 — The Clippers notched 53 regular-season wins,
81.8 — Paul connected on 81.8 percent of his free throws, an uptick from last season.
163 — No. 34 has played 163 career playoff games, seventh among active players.
1,318 — Paul has played in 1,318 regular-season games in his career, 15th most in NBA history and fifth among active players.
26,316 — The Truth has tallied 26,316 points over his career, 16th most in the NBA and fifth among active players.
Season Tweetcap
Done deal! 📝

LA native Paul Pierce is officially a member of the LA Clippers. pic.twitter.com/OddmKUb3NA

— LA Clippers (@LAClippers) July 10, 2015
Paul Pierce looked good in his debut. 12 points and 7 rebounds in 24 minutes. Hit a HUGE 3 that stopped Kings run.

— Cameron Stewart (@ThatManCam) October 29, 2015
Final score: Clippers 102 Suns 96
We're 4-0! 🙌

#ClippersWin pic.twitter.com/RlUAGFST82

— LA Clippers (@LAClippers) November 3, 2015
Blake Griffin has 22 points and 10 rebounds as Clippers hold on for 102-96 victory over Suns to improve to 4-0 for first time since 2007-08.

— Ben Bolch (@latbbolch) November 3, 2015
Congrats to @PaulPierce34 on becoming the 16th player in @NBAHistory to reach the 26K point milestone! pic.twitter.com/sbrvtEU0xY

— NBA (@NBA) December 17, 2015
Paul Pierce 3. Pierce has 20 points. Redick and Pierce are BOTH 5-for-7 from 3-point range.

— Rowan Kavner (@RowanKavner) December 27, 2015
We're here at 109th Street Elementary School giving back w/ @CityYearLA #ClippersForKids pic.twitter.com/Z3205X18mD

— LA Clippers (@LAClippers) January 14, 2016
Really impressive win over Miami from @CP3 and the Clippers without Blake & DJ. Win streak up to 10

— Ramona Shelburne (@ramonashelburne) January 14, 2016
The Clippers clinch a playoff spot for the 5th straight year, the longest streak in franchise history. pic.twitter.com/12MyYKxP2b

— NBA on ESPN (@ESPNNBA) March 27, 2016
Isaiah Thomas/20 points in 16 straight games; longest streak by @celtics player since Paul Pierce (16-Feb/March 06) pic.twitter.com/8CIlZCC5Zg

— NBA History (@NBAHistory) April 5, 2016
Final score: Clippers 102 Suns 96
We're 4-0! 🙌

#ClippersWin pic.twitter.com/RlUAGFST82

— LA Clippers (@LAClippers) November 3, 2015
Clippers beat Blazers, 102-81, to take 2-0 series lead. Los Angeles outscores Portland 35-20 in 4th Qtr. pic.twitter.com/5iEWR2cdZc

— NBA on ESPN (@ESPNNBA) April 21, 2016
Chris Paul drops 25 as the Clippers beat the Blazers, 102-81.

LA takes a 2-0 series lead. pic.twitter.com/EdFAdiDBvk

— 120 Sports (@120Sports) April 21, 2016
FINAL: Blazers 81, Clippers 102. Chris Paul records 25 points and 5 assists as L.A. takes a 2-0 series lead. pic.twitter.com/wyLOKYWRog

— SLAM Magazine (@SLAMonline) April 21, 2016
Clippers lose, and the Paul Pierce may have walked off for the last time. If so, what a career. First ballot HOF-er, an all-time great.

— Chris Mannix (@ChrisMannixYS) April 30, 2016
Paul Pierce says he's 50/50 on coming back next season… But wants to avoid making an emotional decision.

— Kristina Pink (@Kristina_Pink) April 30, 2016
In His Own Words
"Each and every year for the last couple years, I've thought long and hard about walking away from the game," Paul said the first-round elimination game versus the Blazers. "The process is going to continue this summer, as I think long and hard, step closer to getting older in age. (It's) seeing how my body feels, talk to my family. I just don't want to make an emotional decision right now. I'll just take some time off, sit down with my family and think long and hard."