Paul Pierce has made a career out of clutch performances and timely scoring. In his 15 years with the Boston Celtics, Paul's late-game heroics were a constant that fans in Beantown could always rely on.
If the Celtics were in a close game with the clock running out, everyone knew Paul was getting the ball.
Once he got the rock, everybody knew what was coming next.
And it was still unstoppable.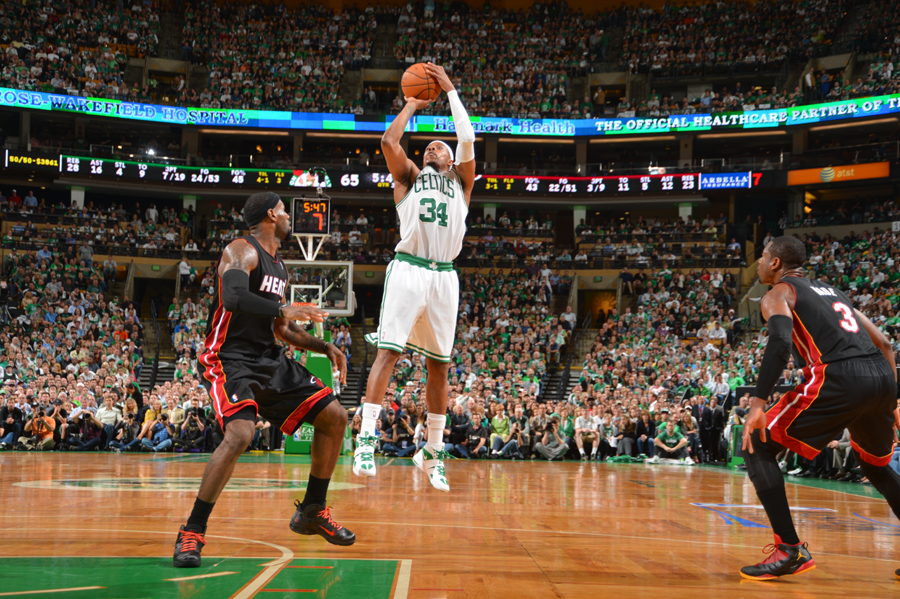 That's because more times than not, what was coming next was The Truth's patented step back jumper.
"It's my game-winner—the in-and-out step-back going right for the win," Paul told Bleacher Report's Lance Fresh. "They've definitely seen that in Madison Square Garden, they've seen it in the Staples Center, they've seen it in Chicago."
With his large frame and immaculate body control, Paul has developed an unparalleled ability to create space from a defender. Once he gets space, The Truth's jump shot is lethal.
The set up is almost always the same: No. 34 gets the ball and sets up his defender at the top of the key with the dribble. Putting the ball into his right hand, Paul hits his defender with an in-an-out dribble, steps back to his right side, and drains the jumper.
"First I set them up from the top," The Truth explains. "Dribble left, dribble right, get them leaning left, then in and out."
They've seen it in Miami:
Sometimes The Truth will switch it up and drive left, sometimes he will use his thick shoulders to draw contact and create additional space. Yet no matter what the process, the results are incredibly dependable. If you let Paul get open with the step back, you can expect to be put on his highlight reel.
The trouble defenders have when trying to stop The Truth in one-on-one situations is that he presents a bit of a catch 22.
While it will come as no surprise to anyone that, at age 36, Paul is no longer as fleet of foot as he may have been in his youth, his ball handling ability, strength, and body control make him a threat to go past any defender who tries to press him. But at 6'7″, he also doesn't need much room to get a shot off.
"I give them the shoulder. You don't want to get a charge, so you don't want to put the arm out to far. You keep it in, so you use the shoulder and lean in. When he gets to leaning back, now you see the space—a clean shot from the elbow, I can get that off anytime I want."
They've seen it at Madison Square Garden:
In effect, defenders are left with a pick your poison of sorts, and the results often go in favor of Paul and his team.
So what does this all mean for fans in Washington? Well, a few things.
The Wizards lost a valuable player in Trevor Ariza, but the addition of The Truth will bring with it something the Wiz need: a championship mentality. Paul and his team have made it out of the first round of the playoffs every year since 2007.
Chicago has seen it:
The Wizards also offer a plethora of things on The Truth's wish list. Particularly, two premier backcourt teammates in John Wall and Bradley Beal, ball handlers who can help alleviate some of the pressure on No. 34 and allow him to get the ball in positions to thrive when the game matters most.
When that happens, fans in the capital can expect to see a sight that's been a regularity in the NBA over the past 16 years: The Truth stepping back, making big shots.
Now, it's coming to the District: